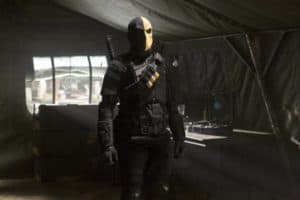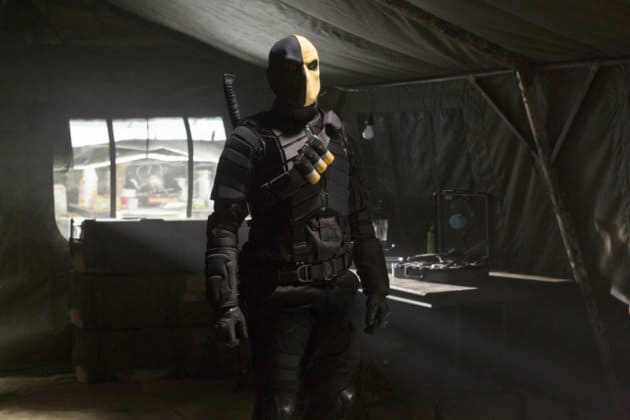 Little is known about John Barrowman's appearance on Arrow beyond the fact that he'll first be introduced in episode 5 as the "Well-Dressed Man".  The CW has just released a few photos of Barrowman's first episode and we've also spotted him in a trailer from New York Comic-Con.
In addition to Barrowman, episode 5 will mark the first introduction of Deathstroke to the show.  Here's what we know about the episode: "After Detective Lance (Paul Blackthorne) arrests Oliver (Stephen Amell) for murder, Oliver tells Moira (Susanna Thompson) the only lawyer he'll allow to represent him is Laurel (Katie Cassidy). Laurel takes the case which puts her at odds with her father. Oliver offers to take a polygraph in front Detective Lance but things get tense when Lance asks him if anyone else was on the island with him. Oliver flashes back to when he got his first scar, courtesy of Deathstroke (guest star Jeffrey Robinson). "
From the looks of photos for this episode, Deathstroke put Oliver through the ringer while was on the island.  Will we see the two men together in Starling City as well?
Use the arrows above to browse through photos for the November 7 episode of Arrow.