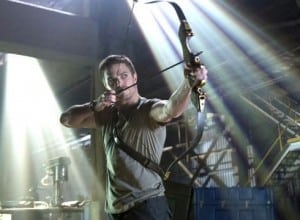 In a move that should surprise no one, the new superhero drama Arrow has been given a full season order by The CW.  When the show premiered two weeks ago, it scored 4.02 million viewers and a 1.3 rating in the coveted demo.
The show decreased slightly in its second week to 3.5 million total viewers, but the series has done incredibly well for The CW and was its highest-rated premiere in three years (the last being The Vampire Diaries).  In fact, Arrow is currently beating The Vampire Diaries for total ratings right now.
Starring Stephen Amell in the title role, Arrow centers on billionaire Oliver Queen who returned from five years on an island to clean up the streets of his hometown: Starling City.  Amell himself tweeted the news this morning that the "back nine" episodes of the show had been ordered.  There's presently no word on the fates of the two other CW dramas that premiered this fall: Emily Owens, M.D. and Beauty and the Beast.
A new episode of Arrow will air on October 24 at 8:00 p.m. ET/PT on The CW.