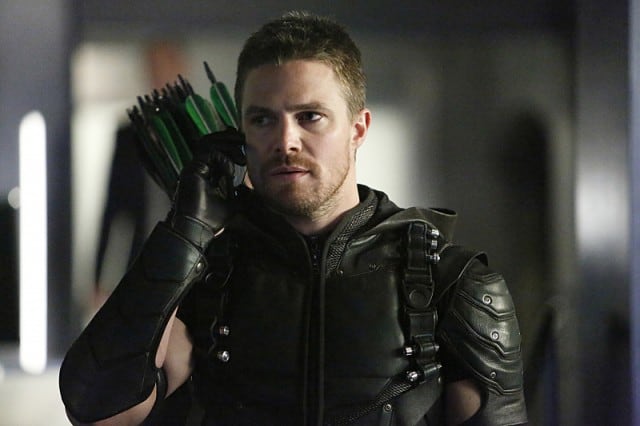 Warning: Stop reading now if you do not want spoilers from next week's Arrow.
The amount of people who know Oliver's identity as the Green Arrow has grown tremendously since the first season. This is mostly due to the fact that many of them have secret identities of their own. It's been awhile since someone has learned the truth about who Oliver Queen really is. The growing fear since the beginning of the season is that it would be this year's villain Damian Darhk, but we now have photographic proof that it is someone else entirely. Recently released photos from episode 15 reveal that Oliver's baby mama Samantha not only learns who the Green Arrow is, she's let into the inner sanctum.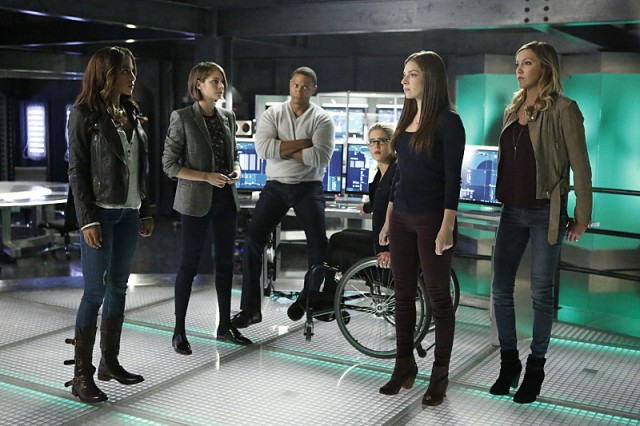 Arrow fans were horrified when at the end of last week Damian Darhk kidnapped Oliver's son William. As shown in previews, this week the entire team will find out about Oliver's son and will quickly scramble to get the little boy back. It seems that in order for William's mother Samantha to trust that Oliver can help, she'll be clued into her baby daddy's secret identity.
Not only will Samantha learn about Oliver and Team Arrow, it appears she'll be actively involved in getting her son back. Below Samantha can be seen working alongside Team Arrow. This includes Laurel Lance/Black Canary, who Oliver was dating at the time that William was conceived, and Oliver's current fiancée Felicity/Overwatch, who will most likely have something to say about Oliver's secret child when all is said and done.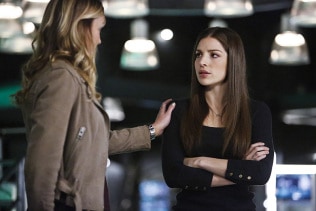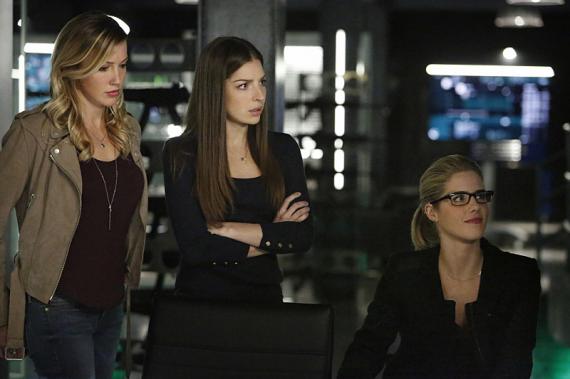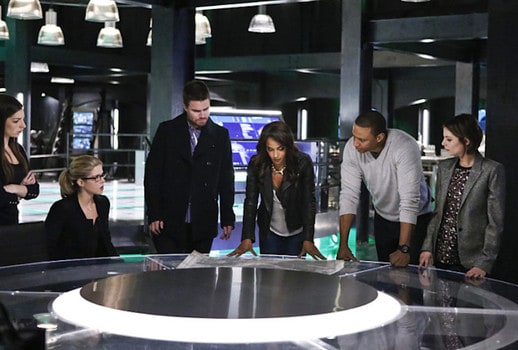 This week the priority will be getting William back to his parents. Doing this will require the help of another old friend, Mari McCabe/Vixen in her Arrow debut.
Arrow 4×15 "Taken" – Oliver (Stephen Amell) realizes he needs help battling Darhk (guest star Neal McDonough) so he calls in an old friend — Vixen (guest star Megalyn E.K.). Using her magical ability to summon animal powers, Vixen gets a lock on Darhk's location and the team goes to war. Meanwhile, Thea (Willa Holland) has a heart-to-heart talk with Malcolm (John Barrowman).
Tune in this week to see if Team Arrow can save Oliver's son.