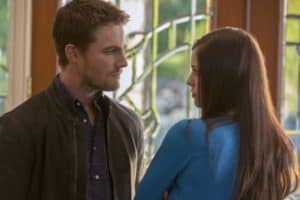 The Huntress/Helena Bertinelli will be introduced in the upcoming November 28th episode of Arrow (view photos), but she's not just appearing in a single episode. Â In fact, she'll be sticking around until December, at least.
In "Vendetta", Oliver takes Helena under his wing and teaches her how to be the Arrow's ally.  Diggle isn't sure that Helena can be trusted with Oliver's secret identity, but Oliver is too enamoured with the girl to pay attention to Diggle's objections.
But it turns out that Diggle was right when Helena goes on her revenge spree, kills the leader of the Triad and causes all hell to break loose. Â How will Oliver handle the situation?
Use the arrows above to browse through photos for the December 5th episode of Arrow.