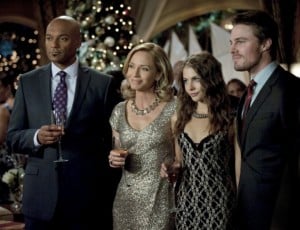 Oliver and Helena grew closer in this week's Arrow and Oliver took her under his wing to teach her his own brand of justice (as opposed to the revenge she was so desperate to seek). Â For a while, their tag-team seemed to work, but Helena grew wary when she learned about Laurel's place in Oliver's life. Â Unable to have another relationship that ended in heartbreak, she decided to walk away from Oliver and focus on her revenge against her father instead. Â Thanks to some strategic take-downs she instigated throughout the episode, she started a bit of a war between the mob and the Triad. Â Fortunately, Oliver intervened in time to defuse the situation, but Helena confronted her father and he – horribly – turned on her and tried to kill her. Â Now Frank Bertinelli is headed for prison and Helena drove off into the night, likely to be seen again. Â Meanwhile, Walter decided to do a little digging into Moira's secrets and discovered that she had a book of invisible names, just like Oliver's father gave to him.
Next week's episode marks the winter finale of Arrow. Â Oliver learns that his mother and sister stopped celebrating Christmas when he and his father disappeared, but now he's determined to bring the holiday cheer back into the house. Â Tommy tries to celebrate Christmas with Laurel, but since the holiday was actually Sara's birthday, she needs time to bond with her father. Â Everyone's plans get derailed when a copycat shows up and starts murdering the people on Oliver's list. Â Will he be able to stop this killer in time?
Watch a preview below for the winter finale of Arrow, airing at 8:00 p.m. ET/PT on December 12 on The CW.
http://youtu.be/hzBK3NgOjy8