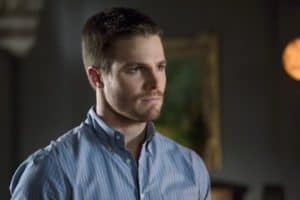 The justice system moved swiftly in this week's Arrow.  After being arrested last week for taking a new street drug called Vertigo, Thea went before a judge for a hearing.  While her lawyer and the DA had negotiated a plea agreement, the judge wanted to make an example of her.  Fortunately, Oliver asked Laurel to step in and, with the help of her father, managed to get Thea off with community service, probation, and Laurel acting as her "guardian" while she works at the legal aid office.
Before asking the Lance family for help, Oliver decided to track down Vertigo's supplier himself.  He got in good with some Russian mobsters and eventually met The Count, the man who had created Vertigo.  The Count and the Arrow had a few encounters and, when all was said and done, the Arrow escaped and The Count was basically suffering through a massive Vertigo overdose.  He may live, but he'll likely have some serious damage.  In the end of the episode Felicity also visited Oliver to show him the book of names that Walter found at the Queen mansion.
In next week's episode, Oliver shows Moira the notebook he got from his father and asks her about the names on the list, but she's more interested in burying the truth than being honest.  Also, David Anders (Once Upon a Time and The Vampire Diaries) guest stars as Cyrus Vanch, a criminal who has been recently released from prison who is interested in re-securing his position in the city's underworld hierarchy.  When he targets Laurel after a slip-up from Detective Lance, the Arrow swoops in to help.
Watch a preview below for the February 6 episode of Arrow on The CW.
http://youtu.be/5JIYa_iCVXg