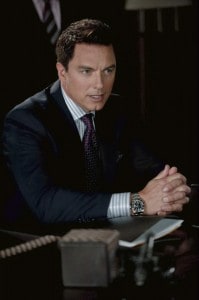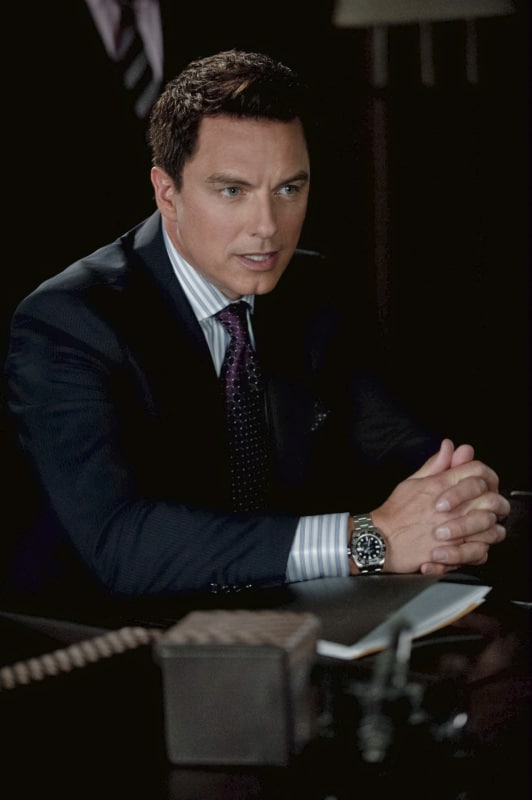 Genre TV favorite John Barrowman will be making a full episode appearance on Arrow next week. Â Unfortunately, details about Barrowman's character have been kept under lock and key. Â When we visited the Arrow set in Vancouver (courtesy of Warner Bros.), Barrowman had just finished filming his second appearance (he'll also pop up in episode 1.07) and star Stephen Amell was tight-lipped about Oliver's interactions with the new character: "[Barrowman's character is] well-dressed. Â He's a very well-spoken, well-respected businessman in Starling City."
Susanna Thompson told us that Moira will have ties to Barroman's character and the two of them will have scenes that are "dramatic and intriguing."  We saw a peek at their interaction in this week's episode when Moira met with his character in the back of a limousine and he told her that this Arrow fellow was targeting members of "the list".
At this point, it seems like Barrowman's character interactions will be limited to a limited number of characters. Colin Donnell and Willa Holland both said that Tommy and Thea haven't interacted yet with the well-dressed man.
Elsewhere in next week's episode, Detective Lance proceeds with his case against Oliver for murder and Oliver hires Laurel to represent him at trial. Â Oliver also flashes back to his time on the island when he first met Deathstroke.
Watch a preview below for the November 7th episode of Arrow airing at 8:00 p.m. ET/PT on The CW.
http://youtu.be/TuVeAFL_QMQ