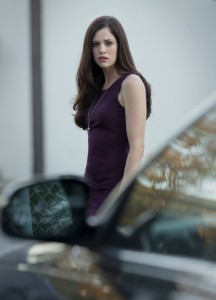 Oliver faced off against the Royal Flush Gang in this week's Arrow. Â After the bank robbing family shot a police officer during a hold-up, Diggle asked Oliver to set his sights on the robbers. Â But Oliver merely called them a symptom of the plague that was infecting Starling City and insisted that his job was to target those at the top who were really responsible. Â Diggle was persistent, however, and it paid off when Oliver agreed to help the over-worked police by identifying the robbers and confronting them himself. Â Unfortunately, that ended in the death of one of the criminals, but Oliver seems willing to achknowledge that targeting CEOs isn't the only way to get the job done.
Arrow goes on hiatus next week and returns at the end of November with an episode that introduces us to The Huntress, played by guest star Jessica DeGouw.  Oliver comes across mob boss Frank Bertinelli and his daughter Helena (a.k.a. The Huntress), but soon realizes that the young woman is hiding secrets of her own.
Watch a preview below for the November 28th episode of Arrow and browse through photos for the episode here.  Stay tuned for some interviews from Stephen Amell and Jessica DeGouw on Helena's introduction to the show!
http://youtu.be/lQqJXTKb0tI