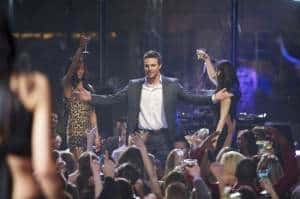 We all know that Oliver Queen has become the Green Arrow in The CW's new fall drama Arrow, but the rest of the show's characters seem firmly in the dark.  After being marooned on an island after a disastrous yacht sinking that claimed the life of his father, Oliver Queen spent the next several years transforming himself from a spoiled billionaire playboy into a vengeance machine.  Why?  Because his father tasked him with cleaning up the corruption plaguing their home city.
But when Oliver is finally rescued from that hellacious island, he returns home to the welcoming arms of his family.  Although, many things have changed and all is not what it seems.  His mother has moved on from his now-deceased father, his sister has grown up into a young woman who is engaged in some questionable activities, and the girl that he loves can barely stand the sight of him.  At the same time, Oliver puts his plan for vengeance into effect by finding himself a base of operations, escaping his assigned bodyguard, and engaging in some pretty incredible workout routines.  On the one hand, Oliver is trying to act like his old self – an unaffected playboy – but on the other hand, we all know the truth of what he is doing under the cover of darkness.
Arrow premieres on Wednesday, October 10 at 8:00 p.m. ET/PT on The CW.  Watch a new preview for the show below.