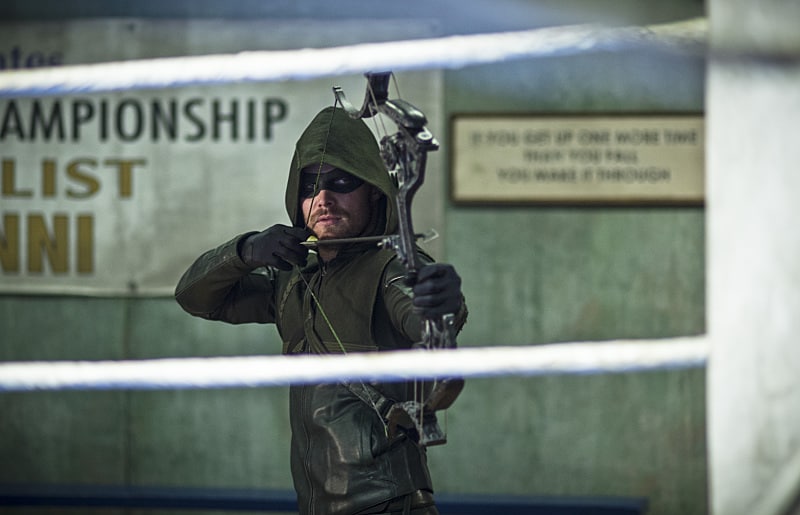 Last night's Arrow gave us a lot of insight into the character Ted Grant (J.R. Ramirez) a.k.a. Wildcat, while also forcing Roy to deal with his horror that we saw last week and fleshing out the relationship between him and Oliver.
The episode continues with Roy's struggle as he keeps getting more afraid that he really did kill Sara. I liked that he turned to Felicity for help because 1) those two characters haven't interacted a lot as far as I know and 2) she was able to get some theories tested. The thing that was somewhat bothering me was that for an episode that was supposedly going to deal a lot with Roy, he wasn't in it much While it didn't lower the quality of the episode, I do wish we had seen more things with Roy; however, it all pays off very well in the end. He does end up telling everyone in Team Arrow that he has been having these dreams or flashes of him killing Sara with everyone having different reactions. I found it particularly interesting how Oliver was dealing with it, but we will get back to that in a bit.
"Guilty" also deals with Ted's backstory as a former vigilante as he gets to face consequences of his past with his former apprentice Isaac Stanzler murdering people and leaving them in his gym. I can't stress enough how much I enjoy Ramirez's portrayal of Ted and how quickly his character has become one of my favorites on the show. Even though he is his own character, there is something in the writing and portrayal for this character that just stands out so much more in a refreshing way. He is the everyday man for me who isn't a lawyer, (former) billionaire, high skilled hacker, soldier or anything like that.
Ted just feels very real to me and I know it sound so weird because I do feel the same way for Oliver and so many other characters on the show. However, with Ted, there is something else, and whatever it is, I love it. Ramirez is doing a great job in every episode he's in. I like the aspect that before Oliver, there were other vigilantes and Ted was one of them and for hardcore DC fans out there, I would look at it as a nod to the fact that Wildcat was part of the Justice Society of America, some of the first heroes in the early days. I'm really excited to potentially see a costume for Ted though because at this point it's a safe bet that he will be suiting up again, although perhaps with some new gear.
Even though Isaac was a very underwhelming villain for this episode, his relationship with Ted did play in a lot with the relationship that Roy has with Oliver. Oliver learned something from seeing Ted's situation and what could happen if he ever decided to abandon Roy. There is a moment after Roy defeats Isaac, where he turns to Oliver, says "Don't abandon me" to which Oliver say "Never". As a big fan of their relationship in the comic books, that moment was a huge geek moment for me, but also a special moment in general because it shows you how far they have come since last season.
Speaking of geek moments, which we get regularly on this show, we finally got something that a lot of hardcore Green Arrow fans have wanted to see in live-action for a long time. We finally got a version of the boxing glove arrow when Oliver and Ted were fighting. The way they did it fit in perfectly with the fight as they were in Ted's place which gave Oliver the chance to grab a boxing glove with an arrow. I can't imagine we will see it again, but if they somehow manage to find a way to make it as a trick arrow, this critic will be very happy.
Laurel just keeps improving in every episode as I have so far been appreciating everything that the writers have done with this character since the beginning of season 3. We have her relationship with Ted, as well as her training, and there are just a lot of strong aspects to this character ever since the writers soft-rebooted her at the end of season 2, after all her drug and alcohol problems.
The thing I also enjoyed a lot this week was the Honk Kong flashbacks and even though I know that I can't always get a connection between the past and present, this week it did happen. Oliver has to get some envelope from a guy in this episode, but it's not really the main point here as they start exploring with memories. We get a good dosage of Rila Fukushima's Tastu (also known as Katana) where she teaches Oliver how to access memories that he didn't even know he had. That comes into play a lot towards the end of the episode when Oliver uses that technique to help Roy out, learning that he didn't kill Sara after all. Unfortunately, Roy does learn that he did kill a cop during his Mirakuru phase and causes him to leave the Arrow cave.
Overall, "Guilty" was another solid episode, as we got a lot of great character development for Ted by giving us some backstory as well as having Oliver be influenced by him. Luckily, Roy wasn't the one who killed Sara, so now we are back to square one: who killed Sara Lance?
Arrow airs on Wednesday nights, 8/7c on The CW.
Photo via The CW