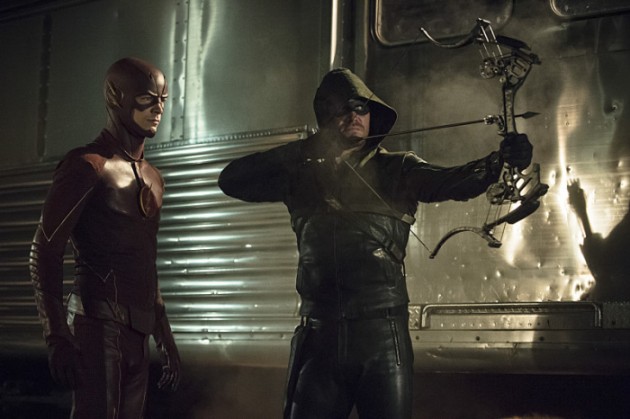 With a strong part 1 with Tuesday night's The Flash, last night's part 2 with Arrow was just as entertaining as Team Flash visited Starling City to help Team Arrow stop the dangerous Captain Boomerang (guest star Nick Tarabay).
Despite how much I really enjoyed and cherished the first part, the second hour of the crossover was somewhat a few steps better and it's not to take anything away from "Flash Vs Arrow". To me, "The Brave and the Bold" completes the whole crossover so both parts were remarkable. So after seeing our heroes having gone up against each other, we see them work together as we dealt with the deadly and dangerous Boomerang. To begin with, even though I enjoyed Rainbow Raider in "Flash Vs Arrow", Boomerang was somewhat more developed and focused on.
Boomerang is one of those characters that has really improved in the comic books with The New 52 so I was excited to see how the TV show would deal with him. I'm still disappointed that they didn't keep his Australian accent because his Australian background is a huge part of his character in the comic books. Regardless, I really enjoyed Tarabay and what he brought to the role as this was also Boomerang's live-action debut. After this episode, boomerangs are now more dangerous to me than ever because, man, the things that dude could do with them as weapons were intense.
Something that I have been saying about Arrow for a while is that it's consistently getting darker so seeing the brightness that is Team Flash was a bit of fresh air, not to knock down Arrow though. Caitlin and Cisco wanting to nerd out in the Arrow Cave was something that we don't get a lot of on the show that brought us the spin-off to begin with in terms of the comedic aspect. Â But as dark as this show is: the fact that Team Arrow lives in such a gritty world was a good wake-up call for Team Flash because up until this point, most of the Flash episodes has been dealing with meta-humans. The second hour of the crossover was featuring heavy character development for members in both teams because they got to learn things from each other that the other ones needed.
Just the scene at Verdent was remarkable to me because I love whenever you get clear character development. I know a lot of the focus was on the relationship between Barry and Oliver, but I was happy that the supporting members had a lot of great moments and building together. I'm still in love with the Caitlicity friendship that is Caitlin and Felicity as Panabaker and Rickards are phenomenal together. However, I have to say that one of the characters that keeps getting better each episode is Cisco; Valdes owns that role. The scene with him, Roy and Diggle in the van was a perfect example of that as they got to sort of compare notes to what it's like working on a hero team.
I really enjoyed how Barry was able to be an influence on Oliver as Oliver was the one to guide Barry the other night. Before I go on though, can we just talk about how awesome it was seeing Barry being so comfortable in the role as The Flash? The opening with him arriving in Starling City was great, but I think the moment that just broke us was the super-salmon ladder because that just looked ridiculously fantastic. But seeing Barry bring out some of Oliver's inner humanity was a great moment for Oliver's character because this is something that he has struggled with since the day he got back from the island. It might also help the show itself to be not as dark as it currently is. There were a lot of fantastic things this crossover accomplished, but if there is one thing they perfectly did, it was having these two heroes learn from each other.
Overall, The Flash and Arrow crossover lived up and exceeded my expectations as this was two outstanding hours of television. We had some of the greatest performances ever from Amell, Gustin as well as many more. The writing for both hours came together really well and each episode stepped the shows up to a whole new level. I'm actually more grateful that we got the crossover so early in the season as it looks like it will be a long time till we have another big crossover like this. With that said, I'm dying to see each mid-season finale next week as the promos were mind-blowing!
Don't miss the epic mid-season finale of Arrow next week with the ninth episode "The Climb", 8/7c on The CW!
Photo via The CW