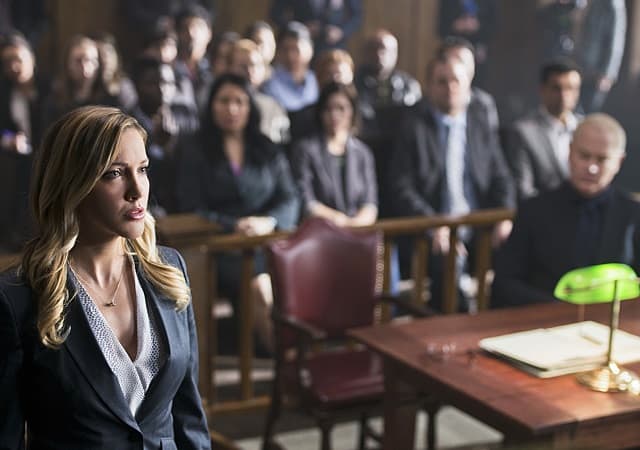 After a three week hiatus, Arrow returned tonight as they deal with the aftermath of the last episode as Darhk was put on trial for his crimes while Cupid returns to keep Team Green Arrow even busier.
Something that I have missed for a while was seeing Laurel back in her lawyer role so it was great to see her be the prosecutor for Darhk's case. I was slightly worried though that, given how the show somehow gives Laurel a hard time, Damien would in some way go free. However, Quentin testified and came clean with what he had been doing for Damien this whole season, which is where the heroes won. Seeing Quentin basically giving up his career in order to get Damien behind bars, was heartbreaking and one of my favorite Paul Blackthorne scenes of the season. So thanks to the Lances, Damien's motion to dismiss gets denied by the judge. But what type of villain would Damien be if he didn't have a trick up his sleeve, or in this case, a ring in his mouth. My first thought was that it must be a new source for his magic, but on the other hand, it may just be a normal ring as the magic he used to possess, was specifically just in that one item that Vixen destroyed.
With what happened in the last episode and with a title like "Broken Hearts", it was inevitable that we would see the aftermath of Oliver and Felicity's break-up. While I was prepared for it, it got old really fast with Felicity's attitude, even though I can't blame her too much. But at least Oliver was trying to keep it civil while Felicity's snarky and witty comments just got annoying as Cupid wasn't the only one who was down on love. It's OK for a character to have feelings after a huge break-up like this couple had, but to follow it up with her being that negative, just makes her look immature. As someone that doesn't particularly care for that relationship, the fake wedding didn't really have any effect for me.
Although it did get emotional seeing how broken Oliver was throughout "Broken Hearts", especially as he gave Felicity his vows in attempt to win her back. It was in that moment where I almost thought that they would magically get back together again, given how Arrow deals with consequences sometimes, like in the case with Felicity's wheelchair plot. However, the episode managed to surprise me as Felicity wouldn't take it at the end and she decided to leave the team. I'm willing to bet that this will only last for about three episodes, but who knows, we may be surprised again. As fun as Cupid can be whenever she shows up, her presence in this episode didn't really mean anything sadly as it became more about Oliver and Felicity handling their break-up.
Overall, other than the great court room scenes, "Broken Hearts" was an OK episode, but understandably something that was required, just so they could conclude the breakup as a whole, at least for now. Also, will these flashbacks ever get interesting again?
Arrow airs on Wednesday nights, 8/7c on The CW.
[Photo: Katie Yu/The CW]
Summary
In this week's Arrow, Cupid returns to Star City as she is done with love while Darhk is put on trial for the horror he has caused the city.