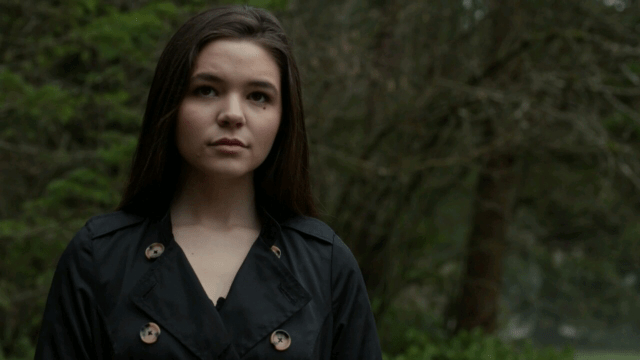 Arrow Season 5 will be bringing a new hero onto the team. The famous DC Comics character Artemis will make her debut on the CW superhero series this fall; however, Artemis will be a character that Arrow fans have met before, played by an actress who first guest starred on the show in Season 4.
According to Variety, which first reported the news, Madison McLaughlin will reprise her role as Evelyn Sharp, who will become Artemis in Arrow Season 5. McLaughlin first appeared as Evelyn in the Season 4 episode "Canary Cry," in which her character impersonated the Black Canary and sought revenge on Damien and Ruvé Darhk for the murder of her parents.
McLaughlin will appear in multiple episodes in Arrow Season 5, beginning with Episode 2. Although she originally tried to carry on the mantle of Black Canary last season, Evelyn will now transform into her own hero by taking on the identity of the masked archer Artemis.
While Artemis is a member of the Injustice Society in the comics, the Young Justice animated series put a different spin on her character, as she became the Green Arrow's new sidekick after Roy Harper's departure. Speaking of Roy, this upcoming storyline with Evelyn sounds very similar to what his main arc was on Arrow, as she'll have to work Oliver and the rest of Team Arrow to learn to control her anger and embrace her more heroic side.
Arrow Season 5 kicks off on Wednesday, Oct. 5, at 8 p.m. on The CW.
Arrow fans, are you excited for the introduction of Artemis? Comment below and let us know.
[Photo via The CW]