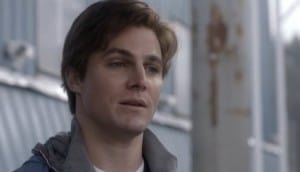 Throughout the first season of Arrow we've seen flashbacks to Oliver's time on the island. In the pilot, we caught a few glimpses of him on the boat with his father before the Queen's Gambit sunk. But this week's episode is going to give us the first substantial flashbacks to a time before Ollie was marooned on that island.
The episode, titled "The Undertaking", will fill in some necessary backstory on Malcolm, the Queens' and Frank Chen's plans for The Glades. According to the synopsis for the episode, it seems like the circumstances surrounding the death of Malcolm's wife helped set his plans for "The Undertaking".
In addition to seeing Robert alive and well, we'll also see a pre-island Oliver, whose hair, I'm happy to say, has improved by leaps and bounds since he returned from his 5 year "vacation". He shows up at the docks to tell his mother that he'd like to join is father on the sailing trip and Laurel stops by for a goodbye kiss. But what she doesn't know is that Oliver is planning to meet Laurel's sister for the trip…and Sarah is only moments away from turning the loving goodbye into a crazy confrontation.
Don't miss a new episode of Arrow at 8:00 p.m. ET/PT on May 1 on The CW. You can also watch a preview for the episode here.
http://youtu.be/ofvCgSoDYcI