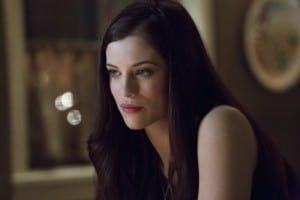 Another DC comic character makes her debut on Arrow tonight.  Jessica DeGouw will be appearing as Helena Bertinelli/The Huntress, the daughter of mob boss Frank Bertinelli (played by Jeffrey Nordling).  During a visit to the Arrow set in Vancouver*, Stephen Amell and Jessica took the time to speak with us about The Huntress' arrival in Starling City.
Extended Stay.  The Huntress won't be a one-episode character.  In fact, Stephen told us that tonight's episode will not only be terrific, but will serve as the introduction to a slightly larger story: "The dynamic that [Jessica's character] brings into the show, specifically the way that we open the show….there's a sequence that opens it and the fight that closes it and so much discovery in the middle of it, it really builds up.  Also, and this is interesting, every episode without [giving away] any of the story, has kind of had an end point, [but] this one has not.  If you talk with Andrew Kreisberg, [he] describes this as a two-parter.  It's interesting to end an episode that way."
Helena's Strength.  Like many of the other women on this show, Helena will be a kick-ass female.  There are no shrinking violets on Arrow.  Jessica said that we're introduced to her character "With a punch.  She comes in strong.  She's a force of nature.  And not only the Huntress, but Helena is pretty sassy in her own right."  This strength will serve her well in dealing with her family and her father who, in particular, has hurt her deeply.  "I think Helena comes from a very difficult upbringing.  They're her family but I think she differs from them in her ideals and with what she thinks is right.  So it kind of creates a conflict for her and while Oliver is trying to do what his father wants, Helena is the opposite.   You know, separating yourself from one's family is a big thing for anybody.  And she has to be a pretty bold person to follow through."
Brewing Attraction.  The synopsis for the episode hints that Oliver believes that Helena is one person that he can " finally be himself with" and the preview for the episode (watch it below) indicates that Oliver might be falling for her.  Jessica believes that the attraction between Helena and Oliver is "very interesting because they come from such different backgrounds and circumstances but there's something very similar about them.  And I think that's where the attraction comes from.  They find something they can relate to and appreciate. And I don't think the rest of the world necessarily gets it all the time so I think that's where that comes from.  It's just sort of an instant recognition maybe."
Personal Mission.  There will certainly be similarities in the missions between The Huntress and the Arrow.  Jessica said that The Huntress' personal mission is "born out of the relationship with her family and her father.  And rectifying the wrongs that were done there.  So that's where it all comes from.  [Although], she doesn't have a list like he does."  However, Jessica hinted that her character's control might not be as rigid as the Arrow's.  "[The Huntress is] pretty ruthless.  She's certainly not as controlled as she possibly could be.  I mean, she's a vigilante of sorts and in her own head she justifies the choices she makes.  If you're going to question everything you do, then why do it in the first place?  She can be pretty full-on, but in her head it's all justified."
Outside Interaction.  Stephen's Oliver will enjoy most of the Bertinelli's attention.  Susanna Thompson said that Moira won't be interacting with the notorious crime family, although she did say that one of Frank Bertinelli's men does "come and approach me to see if I will participate in a business deal with him".  And Laurel won't be meeting Helena in tonight's episode, but as for Frank being on the lawyer's radar, Katie Cassidy would only say "you'll see."
Don't miss an all new episode of Arrow tonight at 8:00 p.m. ET/PT on The CW.  You can also watch browse through photos for the episode here.
*Travel and accommodation provided by Warner Bros. Television
http://youtu.be/P46ztkBA-OA