Each year, website TorrentFreak ranks the most downloaded shows of the last 365 days. Certain shows rank consistently in the top ten, while others make surprising appearances one year, and may drop off the next. Read on to take a look at the top ten most downloaded shows of the year.
First let's take a look at the list for 2008: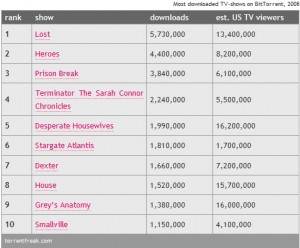 In 2008, Lost reigned supreme. You'll notice that just because a show tops the most downloaded list, this doesn't mean no one's watching. Four shows in 2008's list manage to top over 10 million viewers.
2009's list: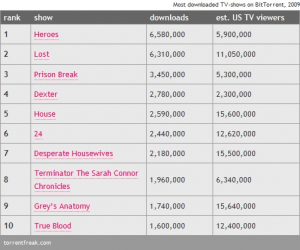 While Lost still came in near the top, 2009 saw a new champion in Heroes. If you're really paying attention, you'll notice that more people downloaded episodes of Heroes than those who actually watched on NBC. What does this all mean? Well, chances are more likely than not that it's all nothing more than a nice little graph to look at. Throughout the Fall of 2009, there were constant rumors that NBC would not be renewing its superhero drama for a fifth season. Could the fact that so many people are downloading the show entice NBC to keep the show running?
The answer is no, probably not. As TorrentFreak points out, in a lot of these cases, a high number of downloads can come from overseas, while the viewers are only tracked for the US. Internationally, many shows are delayed by weeks, sometimes months in most markets. In order to get a jumpstart on seeing their favorite shows in a timely manner, many people will download the episode after it airs in the US. This should also allow us to keep in mind the fact that downloads are not the reason a show like Heroes may suffer in the ratings. A download does not necessarily equal a lost viewer. Many people may download in order to rewatch what they've seen on TV (often the case in markets where online streaming, such as Hulu is not an option.)
Other notable changes to the lists include Smallville and Stargate Atlantis dropping off in 2009, while 24 and True Blood took their places.
And before fans of Dexter get to thinking that their show is in the same boat as NBC's suffering Heroes, keep in mind that Dexter airs on Showtime, a premium-cable channel that not many people may subscribe to. Those who don't have the option to watch Dexter on Showtime resort to downloading. Your thoughts on the 2009 list? Are you included in any of the millions who've downloaded Heroes, or Lost, or even Dexter? If so, tell us in the comments why you download instead of watching on TV.