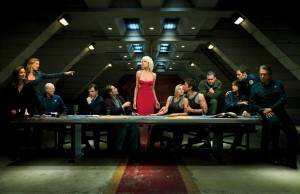 The strange metaphysical questions and overtones of epic myth have slowly dissolved from the Battlestar Galactica palette, giving way for what seems like a more traditional space opera-esque final sojourn. Should we be surprised? The longer Ron Moore and company sustained the arcane methodology of presenting Battlestar's freakier mysteries, the more likely it would become that they would be cleared up in heaping spoonfuls of exposition — as it was. The few mysteries that remain already seem to be telegraphing their own solutions, with the heavy handed reminder of Cylon '˜projecting,'and the notion that a cylon human hybrid might be capable of the same feats. This has happened before, and it will happen again — as Battlestar's goo soaked seers have reminded us time and again.
There is something moderately dissatisfying about the way Ellen Tighe re-entered the world of Galactica with Cylon/Human history tracts in tow designed to indoctrinate us to '˜what is really going on.'For starters, such bursts of information usually only work if they are setting up a larger mystery — not bringing one to a close. To those of us who know who Bob Dylan really is, the significance of his tune is pretty clear — even if the likes of Anders and Ellen still fawn over the mysterious arrangements '˜meaning.'The Cylons of Earth are not of Earth at all. If they were, certainly they would know who one of the great folk rockers of Earth's history was. This has happened before…
Where Galactica appears to be heading in its final two hours is a sort of apocalyptic finale for both sides; a suicide mission to stamp out the Cylon threat once and for all. With the layers of metaphor, symbolism, and allegory caked on four seasons of the richest television in history, is a cowboy up ending really what fans want?
Perhaps BSG's final statement on the human condition is that we are our own worst enemies. No matter how far we advance in intellect and artistry, we are always consumed by the quest for power, and a latent drive to crush everything that is different and beyond our understanding. Political upheaval. Religious intolerance. Even fracturing economies of food, shelter, and even comfort. All too often these things end with Kamikaze dives into the heart of our inner darkness. In the end, it seems there is no bad way for Battlestar Galactica to end — outside of the fact that we'll all need something new to look forward to on Friday nights.