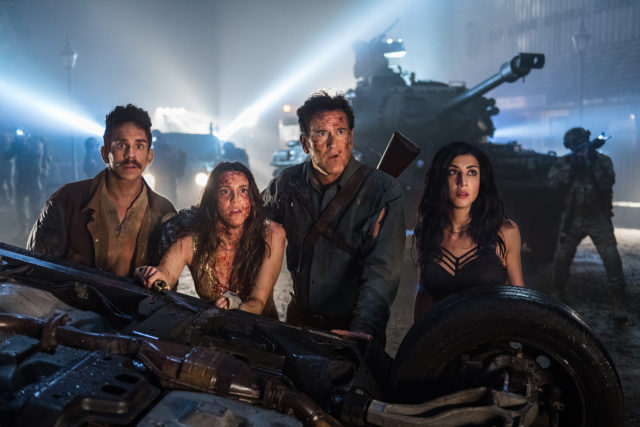 After almost 40 years of playing the same character, the season finale of Ash Vs. Evil Dead — which itself was an abrupt end to the entire series after an unexpected cancellation — will mark the end of Bruce Campbell's career portraying Ashley J. Williams, and boy howdy was it one hell of a way to go out.
Everything that built up in the season came to a blunt end in the previous episode, Ruby was killed by The Dark Ones and Kelly's body was freed from being possessed, but things aren't over. Ruby's defeat was just the beginning, as The Dark Ones finally got their hands on the Book of the Dead to "test the mettle of man," which translates to releasing all the monsters and demons upon the world to see who survives.
The days of Evil Dead being a straight-up horror are long gone, and the finale of Ash Vs. Evil Dead leaned heavily into that fact, evoking the adventurous nature of Army of Darkness while still being mindful of the self-aware, subverting aspects of modern media's take on the action/adventure genre. This is to say that we see Ash take one last stand against Evil, but not before having a strong moment of doubt that reads like an analysis of the entire franchise.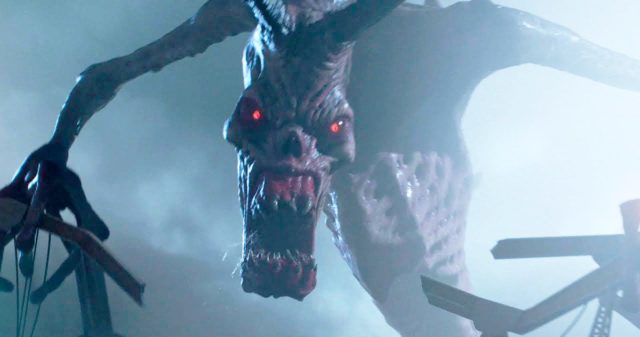 Ash's life has been a nonstop shitstorm as soon as he and his friends first set foot into that cursed cabin, and since then he has gone through phases of reluctantly accepting his fate as the savior of the world. But at the end of the day, Ash still does what needs to be done, even if he strays for a time. However, after so many years of being a weapon that destiny fires at whatever horrific monster needs to be killed, Ash is tired, and the fact that, this time around the monster is, not just one GIANT demon destroying Elk Grove, but hundreds of monster across the world doing the exact same thing in all major cities, doesn't help motivate his tired body, mind, and soul. Suffice to say, Ash wants to just sit down and watch the world end.
And, for a comedy/action series, this moment is powerful, it takes into consideration all the things Ash has gone through — in a self-aware way that, in the case of other long-running series would typically be glossed over — and throws even more at him, and he has every right to give up. But, and here's what's even more powerful, he doesn't. Through the encouragement and motivation of his daughter, Ash realizes that he has to face who he is, but more importantly, as the stakes (and the monsters) have gotten bigger, so too has his reason to fight back. Where he was once a lone wolf, Ash now has a group of people, a family to protect, and by gosh he's gonna do just that.
So, Ash takes one final stand against Evil. He might not save the world from all the monsters, he might not even stop the one he gets into a tank to fight, but he is not going to fight just to be rid of his problems or to run from them, he's going to fight because he has people to protect, not just because it is his destiny. And it's, well, beautiful. The sequence has that dumb wonderful charm that the Evil Dead franchise is known for — Ash stumbles with heavy weaponry that he's probably not qualified to use and ends up defeating a monster with a duct-taped make-shift weapon, all done to the sounds of White Snake's Stormbringer — and still feels tense and dramatic, the last stand of a hero who never asked to be a hero, but is still going to do his job, flipping the bird to giant, otherworldly creatures like the lovable asshole that he is.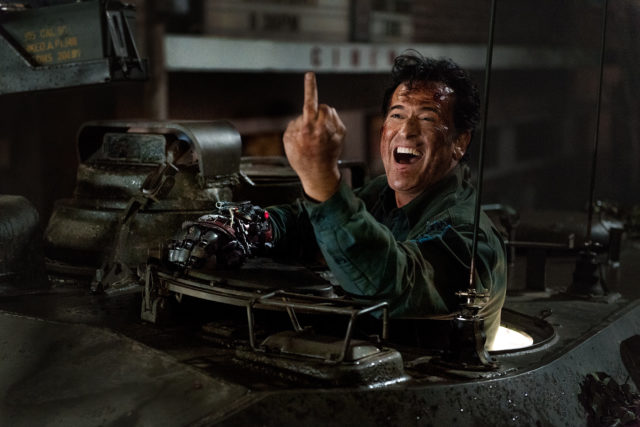 The season finale brought out all the stops and everything was on point, including some awesome special effects — that CGI monster looked pretty dang good for a TV show budget and was designed with classic Evil Dead B-movie stop-motion puppet aesthetic in mind — and great character moments from Pablo and Kelly (including a well-earned relationship culminating kiss), keeping mind to focus on Ash and the climax of his journey as a character.
Ash appears to die near the end of the finale, but lo and behold, there was a teaser for even crazier adventures to come… had the series not been cancelled. Though the finale was still a fitting end to the franchise (for now), the ambitious teaser for a post-apocalyptic future (which appears to be the same one featured in the alternate ending of Army of Darkness) felt bittersweet. On the one hand, going out in a blaze of glory only to learn that the adventure continues is a fitting end to the franchise and character, but on the other hand, seeing Ash run around this Mad Max-looking future ravaged by The Dark Ones would make for one hell of a final season, or perhaps another film.
But, with Bruce Campbell's retirement, it seems we'll have to settle with "The Mettle of Man" being our final foray into the world of Evil Dead, which isn't too shabby of a way to go. Then again, fans (and even Pablo himself, Ray Santiago) aren't quite buying Campbell's retirement, and perhaps soon enough we'll hear an announcement for "Evil Dead 4."
But until that day comes, we'll just say, "Hail (and farewell) to the King, Baby."
Ash Vs. Evil Dead
The Mettle of Man (Series Finale)
Summary
The series finale of Ash Vs. Evil Dead brings the franchise to a close with one final hurrah