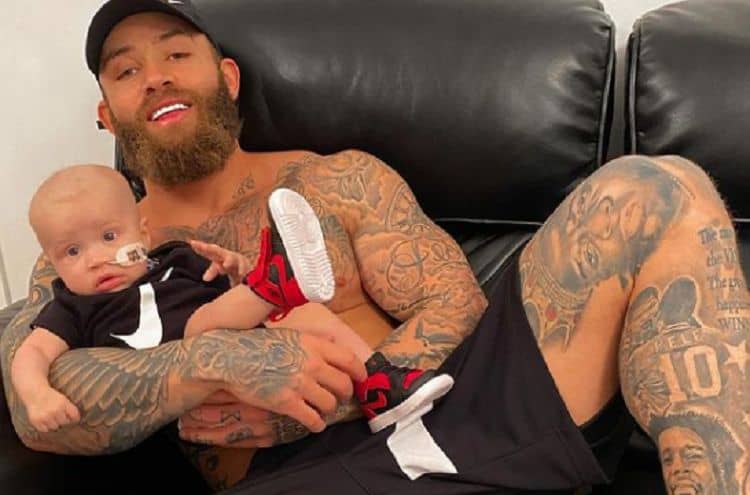 Ashley Cain is a man who is in everyone's thoughts, prayers, and hearts right now. He's a man many people know, but some don't. He's a man who has been in the press a lot lately because of his daughter's health, and he's a man many people are pulling for. His story is one that begins with a lot of success, but he is currently going through what every single parent considers a nightmare. If you don't know him, it's time to get to know him and to know his story.
1. He's a Footballer
If you know him, you know him because he's a professional footballer. That is not the same thing as playing for the NCAA college football teams or for the NFL, however. We're talking soccer. The English football. He played winger for the Midland Football League's Premier Division.
2. He's Young
He is only 30. He was born on September 27, 1990. He got to grow up in the last little bit of the world where cell phones did not exist. He didn't have social media as a child, and he was part of the 'you can play outside until the lights come on, and then it's time for dinner,' club.
3. His Injury Ended His Career
He suffered from a career-ending Achilles tendon injury. No professional athlete ever wants to deal with something that tragic, but it happened. It happens all the time, and it's just unfortunate. Many people who take professional sports as a line of work and a career know that they are only one misstep away from something like this in their own lives.
4. He's a Dad
He and Safiyya Vorajee are not married, but they are the very happy parents of a four-month-old baby girl whose name is Azaylia. She was born in August 2020 during a year of devastation for the world. Her birth should have been a light and a joy for their little family, but the little darling was born with a very rare form of leukemia.
5. His Daughter is Getting a Donor
The little girl needs a stem cell donor. She's needed one since November when the footballer and ex-reality star made it clear online that his daughter needed help. They've finally found a donor for the baby, and they are feeling good and confident that they can overcome her cancer and she can have a long and beautiful life.
6. Her Cancer is Aggressive
She's only five months of age, but she's already been through two rounds of chemotherapy, and her very aggressive cancer has already returned. She's no longer in remission. Her cancer is very aggressive, and the stem cell transplant might be the only way she will get to live.
7. He's Living the Worst Year of His Life
In addition to spending the first five months of his daughter's life fighting her cancer, he's in for another very tough nine months. The first year of her life is already going to be the worst, and he is working hard to prepare himself for it. Her transplant surgery will be rough. She's very young, which works against her. She's got a very aggressive form of cancer, which works against her. Her risk of complications from the transplant is abnormally high, and it could take four to nine months. Their doctors told the baby's parents that things will become much worse before they ever get better. We could all do to say a prayer for this sweet family.
8. He's a Reality Star
After his career in sports ended, he became a reality television star. He starred on a show called "Ex on the Beach," and he was there more than once. He seems to have overcome his ex-status, however, as he is currently with the woman who is the mother of his daughter. They've had a rough year, and we hope that they can find healing in one another and that their baby is all right.
9. He's a Loving Father
He is definitely a man who loves his little girl. He's never had the chance to be a father until now, and he's loving his daughter more than anything. He spends all his free time with her. He spends his time taking photos and videos, showing her the love he has for her, and being a little family with her. His first time parenting might not look like that of most dads, but he's not going to let cancer get in the way of loving his daughter.
10. He's Private
Right now, he shares every waking moment with his little girl. He's sharing her health journey, which we imagine is a blessing to others who are also dealing with similar situations, and he's sharing so much of what is going on. When he's not sharing his baby's life, however, he's not sharing much of his personal life. He likes to keep that to himself, and that's good.