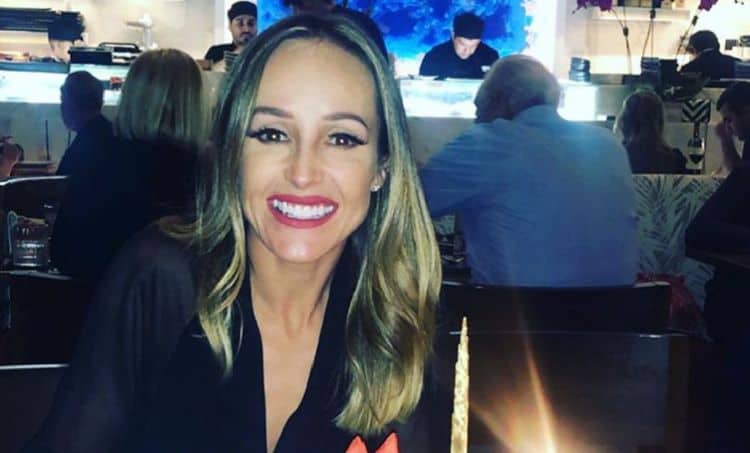 Call us absolutely shocked. If there was one couple from the Bachelorette that we did not see splitting at any point in their lives, it's Ashley Hebert and J.P. Rosenbaum. She went on the Bachelor to find love with Brad Womack, a man who ended up not being the one for her, but she absolutely found love when she was the 7th Bachelorette. It was clear to us from the start that he was the one for her, and we were not shocked when he won her heart in the end. They've been the picture of sheer adorable-ness, and we are absolutely shocked that they've announced their separation.
1. She's In Her 30s
Ashley Hebert is still young. She was born in 1985, though we are not sure of the exact date of her birth. She's always looked so much younger than she is, and we know she loves that. Honestly, what woman wants to look older than she is?
2. She's From Maine
She is a girl from Maine. She went to Dental school at the University of Pennsylvania, showing us that she has a thing for the north eastern part of the country. Or not, of course. She didn't really have a choice where she was born and raised, and she did go to a good school, so that might be more what it is. Either way, she's hung out around there for a long time.
3. She's Been with Rosenbaum for Nearly a Decade
The couple has been together nearly 10 years. They were engaged or approximately a year and a half before their December 1, 2012 wedding. That's a long time to be with someone and decide it's not working. We hate that for them.
4. She's A Proud Mom
No one will ever wonder if this is a proud mom. She's the kind of woman who makes it very clear her kids are the most important to her, and she's always showing them off. She and her estranged husband have a six-year-old son, Fordham, and a four-year-old daughter, Essex.
5. Their Marriage Has Been Suffering A While
When she announced their separation in October 2020, she said that they'd been apart for some time. They haven't been in their marriage for a while, and they've made the difficult decision to go their separate ways. She alluded to years of differences in their marriage that they finally realized would no longer rectify itself, and that they are looking for privacy in this difficult time.
6. She's a Pediatric Dentist
We are so proud of her as her fans and people who feel as if we watched her grow up. She finished dental school, she went on to become a dentist, and she's doing well. She is a pediatric dentist in Miami, where she and her husband live with their children.
7. She's Very Close to Her Mom
She is a woman who is close to her mother, and that is a beautiful thing. So many women are not, or don't have the chance to be, and she does. She loves her mother. She uploaded a photo of her mother – who could be her twin – to her Instagram account in which she states she calls her multiple times a day…and has for at least the past decade.
8. She is Sad
Her marriage is ending. Her life is changing. Everything is opposite of what she thought it would be at the age of 35. It's been a terrible time for her, and she's sad. She's permitted to want to move on with her life and to change the things that bring her sadness so that she finds more joy while also mourning the loss of something that did mean so much to her.
9. She's Still Close to Some of Her Bachelorette Friends
They may not get to spend as much time together as they did a decade ago. They all have kids and families at this point, but she still spends a lot of time with the women she befriended when they all looked for love in the same place, and we love that.
10. She's Got a Sparkling Personality
We think the moment we saw her on national television for the first time is when we felt it, and it hasn't changed. It's in her eyes, and it's in her smile, and she's the kind of woman who simply exudes joy and happiness. We hope that never changes, even when her life is darker than it's ever been.