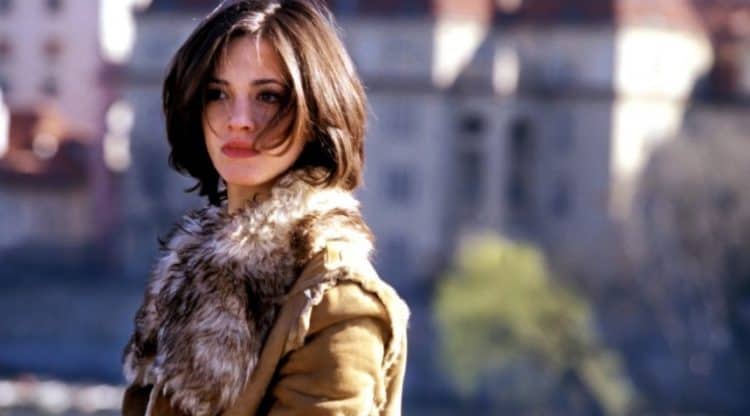 Asia Argento is an Italian actress known for her roles in xXx (2002), Marie Antoinette (2006) and Travelling Companion (1996). In recent years, her cinematic achievements have taken a backseat to her personal life- specifically, her involvement in several sexual misconduct cases which have cast her as both victim and perpetrator. In 2018, she experienced further upset when her partner, celebrity chef Anthony Bourdain, was found dead. While there is no suggestion Argento played a role in his demise (his death was ruled suicide), the tragedy provided further fodder for a media whose voracious appetite for scandal had already been whetted. Read on to find out more about the beleaguered actress.
1. She comes from a famous family
Asia Argento was born in Rome on 20 September 1975 to Daria Nicolodi and Dario Argento. Both parents are eminent players in the Italian entertainment industry: Daria is an actress and screenwriter famed for her work in TV series such as Portrait of a Veiled Woman (1975) and Rosaura at 10 (1981), and films such as Inferno (1980) and Shock (1977). Dario, meanwhile, is a celebrated Italian director, producer and screenwriter best known for his contribution to the horror film genre in the 1970's and 1980's. The Argento family's celebrity doesn't stop with her parents, however: Asia's maternal great- grandfather is Alfredo Casella, a famed Italian composer, pianist and conductor.
2. Her registered name is Aria
When her parents tried to register Asia's birth at the city registry office, the town officials refused to accept "Asia" as a proper name. As a result, Asia became Aria… at least as far as her birth certificate went. At the risk of inciting the wrath of the city's administrative puritans, the Argento family carried on calling the child Asia, and she'd continue to use the name professionally when she entered the film industry years later.
3. She had an unhappy childhood
Argento has spoken on numerous occasions of her unhappiness as a child, claiming to have felt lonely and depressed as a result of her parent's frequent absences. Her relationship with her father, Dario, was particularly strained, with the young Argento unable to draw Dario's attentions away from his work. It wasn't until Argento started acting that the father-daughter dynamic was restored. "I never acted out of ambition; I acted to gain my father's attention," the actress has revealed. "It took a long time for him to notice me — I started when I was nine, and he only cast me when I was 16. And he only became my father when he was my director."
4. She's suffered from agoraphobia
Argento once suffered from agoraphobia, a detail she revealed during an interview with Filmmaker. The condition left the actress housebound for a long time, and she would venture out only if her work necessitated it. "I was sick for a while; I was agoraphobic," the actress shared. "I was afraid to go out of my apartment for a long time, I could only go out to work. But I was not lonely. I was alone. It was my choice — well, I had no other choice."
5. She started acting at 9
Argento began her career at the age of 9 with a small part in the Italian comedy-fantasy series, Sogni e bisogni. Given her family background, it might seem inevitable that Argento would go into acting, but she insists the decision was not influenced by her parents. "An assistant of Pasolini's asked if he could cast me in his own film", she shared with Index Magazine. "My mother didn't want me to, but I decided I would do it. And that's how I started." After Sogni e bisogni, Argento's next project would be 1986's Demons 2, a sequel to the previous years Demons. The film, which also starred David Knight, Nancy Brill and Coralina Cataldi Tassoni, was the first time Argento worked alongside her father, who served as co-writer and producer on the feature.
6. She's a writer
In addition to her film work, Argento has seen success as a writer. Her stories have appeared in various publications, including Dynamo and L'Espresso, while her first novel, I Love You Kirk, was released to a warm reception in Italy in 1999. With her foray into authorship, Argento joins the likes of actors James Franco, Sylvester Stallone and Hugh Laurie, who have all enjoyed successful (if not necessarily acclaimed) writing careers outside of their day jobs.
7. She teaches acting to children
As a former child actress herself, Argento is intent on sharing her knowledge with the next generation of up and coming stars. Argento provides her lessons for free, but limits her teachings to only those young actors she sees a spark in. "It's something that gives me a lot of pleasure," she revealed to Indiewire. "I never received that as a young actress and I kind of want to be the director I never had as a young actress. Mostly I prepare them for movies. I take actors that are already actors and prepare them for the movies that they are going to do."
8. Her belly tattoo features on the cover of a punk album
Not many Italian actresses have had a song written about them by a hardcore punk outfit from Bridgend, Wales, but Argento certainly has. Argento ended up being so impressed by the track from Hondo Maclean that she sent them a number of personal photos… one of which (a self-taken photograph of her angel belly tattoo) ended up featuring on the band's first studio EP, Plans for a Better Day.
9. She's released an album
In addition to her contributions to the projects of other artists (in 2009, she provided vocals to the Legendary Tiger Man's "Life Ain't Enough for You", while in 2003, she appeared in Brian Molko's cover of "Je t'aime… moi non plus", as well as featuring in his band's video for "This Picture"), Argento has made music of her own. Her first project, 1 Disco Sux / 2 U Just Can't Stop the Rock / 3 Sad Core, hit the shops in 2008, while her first full- length EP, Total Entropy, was released in 2013 by Nuun Music.
10. She speaks 3 languages
Obviously, being born in Italy, raised in Rome and coming from one of Italy's most famous family's, Argento can speak Italian. We also know from her many film appearances and interviews that she's fluent in English. What some might not know is that she's also fluent in French. The talented actress learnt the language while working on Les Morsures de L' Aube, a French vampire film directed by Antonine du Caunes. Prior to being cast in the film, Argento had no knowledge of the language, but ever the professional, had become completely proficient by the time shooting started.
11. She has 2 children
Argento gave birth to her first child, a daughter named Anna Lou, in 2001. Anna Lou (who was named after Argento's half- sister, Anna Ceroli, who tragically died in a motorcycle accident at the age of 21), is the product of Argento's long-term relationship with former partner, Italian musician Marco Castoldi. Her second child, Nicola Giovanni, was born in 2008. Nicola's father is film director Michele Civetta.
12. She's had several high-profile relationships
Argento has had a tumultuous love life that's taken in several high-profile flings and 2 marriages. Her first significant relationship was with the father of her first child, Marco Castoldi, the lead singer of Italian alternative band, Bluvertigo. Following the disintegration of her relationship with Castoldi, Argento married film director Michele Civetta. The marriage lasted 5 years, and spawned Argento's 2nd child, Nicola Giovanni. In between marriages, Argento has been romantically linked to several famous names, including Michael Pitt, Vin Diesel, Max Gazze, Abel Ferrara, Sergio Rubini, Marco Castoldi and Rosalinda Celentano. Her most recent relationship to hit the headlines was with celebrity chef, Anthony Bourdain. The relationship ended tragically in 2018, when Bourdain was found dead at the age of 61.
13. She's been honored in a retrospective
In 2012, Argento's cinematic achievements were honored during Argento: Il Cinema Nel Sangue at the Museum of Arts and Design in New York. The 2-month retrospective showcased some of Argento's most influential works, as well as highlighting her family's 4 -decade long contribution to world cinema. In addition to featuring her famous parents, the retrospective made mention of the less-well known Argento family member, Claudio, a respected producer of such films as Scarlet Diva (Asia's 2000 semi-autobiographical feature), and 1978's classic horror movie, Dawn of the Dead.
14. She was as a judge at the Cannes Film Festival
Argento has a long history with the Cannes Film Festival, not all of it pleasant (see her 2017 allegation of rape for reference). In 2009, she cemented her association with the event by appearing on the Official Competition jury at the 62nd Cannes International Film Festival. French actress Isabelle Huppert presided over the jury, which also included actress Robin Wright Penn, screenwriter Hanif Kureishi, director James Gray, and actress Ahamila Tagore, among others.
15. She's a director
Argento's success as an actress is equally matched by her success as a director. Argento first turned her hand to directing in 1994 with the release of 2 short films, Prospettive and A ritroso. In 1996, she directed a documentary about her father; 2 years later, she released another documentary, this time about cult director Abel Ferraro. Her directorial debut in feature films came with Scarlett Diva in 2000, a semi-autobiographical account of her childhood which would go on to award success at the Williamsburg Film Festival.
16. She gained international recognition in xXx
Despite being a well-known name in her native Italy, Argento initially struggled to get a footing on the world stage. That all changed with the release of xXx in 2002. The film, which also starred Vin Diesel, propelled Argento to international stardom. Despite the movie's somewhat lackluster critical reception, she remains thankful to it, even claiming it was one of the best experiences she's ever had on a filmset. "I learned so much also about filmmaking because the machine was so big," she shared with Indiewire. "I was like, "This is how you shoot with 16 cameras!" It was amazing."
17. She thinks actors are bad lovers
Argento isn't averse to the occasional dalliance with her screen-mates, but it seems she does it more to pass the time than from genuine desire. "It's okay while you're shooting the film, especially if you're on location," she explained. "You're tired, you're stuck with these people. But I would never be able to spend time with them outside the set. Actors are very dull lovers. Even Johnny Rhys Meyers – we had an affair, but he was always talking about what he did in his last film, or what he was going to do in the next one. He could be much better."
18. She spearheaded the #MeToo movement
In October 2017, Argento set her allegations of rape against Harvey Weinstein to record. The actress told New York Magazine how the disgraced producer attacked her after inviting her to a "party" in his hotel room at the Cannes Film Festival in 1997. After the assault, Argento claims she continued to have sexual relations with Weinstein out of a sense of professional obligation. Argento would be joined by 80 other women in accusing Weinstein of sexual misconduct, and their combined accounts would ultimately lead to his arrest on May 25, 2018. The case opened the floodgates to an outpouring of similar allegations against several other Hollywood bigwigs, and would give rise to the international #MeToo movement.
19. She's been accused of sexual assault against a minor
After leading the #MeToo movement in the wake of the Weinstein scandal, Argento faced a backlash when allegations of assault surfaced against her. In August 2018, The New York Times detailed the allegations of actor Jimmy Bennett, who claims Argento assaulted him when he was 17 years old. As the incident took place in California, Bennet would have been a minor at the time of the alleged incident. Argento vehemently denied the allegations, issuing the statement "I am deeply shocked and hurt by having read news that is absolutely false. I have never had any sexual relationship with Bennett." Following the release of pictures showing a topless Argento lying on a bed next to Bennett, Argento's lawyer admitted that Argento had had sex with Bennet, but that it was Bennett that was the aggressor.
20. She had a public spat with Rose McGowan
As would be expected, Argento is friends with some very big names in the industry. According to IMDB, Argento's list of buddies include Valeria Golino, Adrien Brody, Libero De Rienzo, Vera Gemma, Norman Reedus, Laura Albert and Marilyn Manson. Until a short time ago, Charmed actress Rose McGowan would have topped the list, but in recent times, things between the two have become somewhat strained. Following comments from McGowan's partner, Rain Dove, about the allegations of underage assault levied at Argento, the pair had a spectacular, and very public, falling out. The rift that culminated in Argento threatening her former friend with legal action has failed to heal with time, and the two remain well and truly "unfriended".