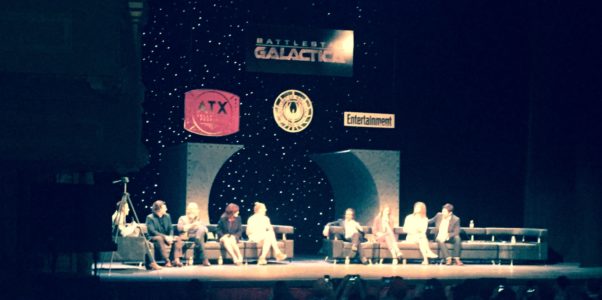 "I didn't even know if I wanted to go into space again," said Battlestar Galactica (2003) series creator Ronald D. Moore, who started his career in television with co-producer credits on Star Trek: The Next Generation.  "The name was off-putting," said Mary McDonnell who began her career as a stage actress.  Even Edward James Olmos whose prior credits up to this time included Miami Vice and Blade Runner almost passed.  At the ATX Television Festival Battlestar Galactica Reunion, series creator Ronald D. Moore joined Edward James Olmos (Admiral Adama), Mary McDonnell (President Roslin), Katee Sackhoff (Starbuck), James Callis (Dr Baltar), Tricia Helfer (Six) Grace Park (Boomer/Sharon/Athena/8) and Michael Turcco (Sam Anders).
All the big names initially said no.
Mr. Moore rose through the ranks in the Star Trek franchise, eventually becoming a co-executive producer and supervising producer on Deep Space Nine. Â His screen writing credits before Battlestar Galactica included screenplay and story credits on Star Trek Generations and Star Trek First Contact, a story credit on Mission Impossible 2 as well as writing and executive producing credits on the highly acclaimed Carnivale.
Mr. Moore told his story:

"I got call before a weekend in 2002: Â Universal wants to redevelop Battlestar Galactica — which they hadn't succeeded with twice before — would I be interested. Â I didn't jump at it right away. Â I asked if I could have a few days to think about. Â I went to Blockbuster video," he began a recurring joke about the entertainment delivery technology available at the time. I rented a VHS tape [ask your older siblings] of the original Battlestar Galactica pilot [ask your uncles and aunts]. I watched it and I thought about it.
I had grown up as a fan of the original Star Trek and Star Wars. Â When Battlestar Galactica came out on ABC Television, of course I watched every episode. Â So, I went back and rewatched the original pilot and thought about how an entire civilization had been destroyed and a few dozen ships fought their way to safety to find a new planet. Â With 9/11 [terrorist attacks destroying the World Trade Center towers in New York City] fresh in my mind and the country beginning a war [against terrorism], I thought about all the stories we could tell [with this band of survivors]. Â War, terrorism, suicide bombings, the press, the military, the government, [personal] relationships — every aspect of human drama, and then I said yes.
Mr. Olmos, whose prior credits at this time included Stand and Deliver and Miami Vice told his story.

"When I got the call, I wanted to pass on it. Â I thought about the state of science fiction television at the time [Star Trek, Quantum Leap]. Â I didn't want to do it. Â But my agent told me to read the script [for the pilot/mini-series]. Â So, I picked it up and I started reading and I knew I had to be a part of this.
I had first been introduced to science-fiction with Blade Runner, which set a very high bar. Â I told Ron, 'If I do this, if we do this, the world building and the story telling has be as good as Blade Runner.'

Mr. Moore interjected — "sets, cameras, writing, actors, music, effects, everything."
Mr. Olmos continued

"And when I picked up his pilot script, around 300 pages" he gestured with his hands to indicate a very large, thick script, "it started with a manifesto.

Mr. Moore interjected — "just three pages."

Ms McDonnell, Ms Helfer and Mr Callis interjected as well, "Just three pages, but it told us how to read the script, how to think about the story, what we were trying to do in a larger sense."

Mr Olmos continued, "and it started with a mission statement."
Mr Moore joined Mr Olmos "We will completely redefine what a science fiction television series is."
The Moderator, Ms Park and Ms Hilfer finished, "And you/we did that, didn't we?" Â The actresses turned to the crowd and smiled and we cheered.
Ms McDonnell's prior credits included Sneakers with Robert Redford & Sidney Poitier and Independence Day as the U. S. First Lady.
Ms McDonnell told her story. Â "I didn't even know what it was." Â The moderator and some audience members asked if she'd seen it in the 1970s. Â "I didn't have a television at that time. Â I was a stage actress in New York and I didn't have a television, so I hadn't seen it when it first came out. Â Event the name was off-putting, so I wanted to pass. Â But my agent insisted,'Read the script.' Â And I did. I read the manifesto," she gave the crowd, Mr Olmos and Mr Moore a knowing smile. "And then I read about Laura Roselin and how she's told she's dying [cancer diagnosis in the pilot]. Â I read how she takes the Presidency without cultural training or support. Â And I said, 'yes'"
Save