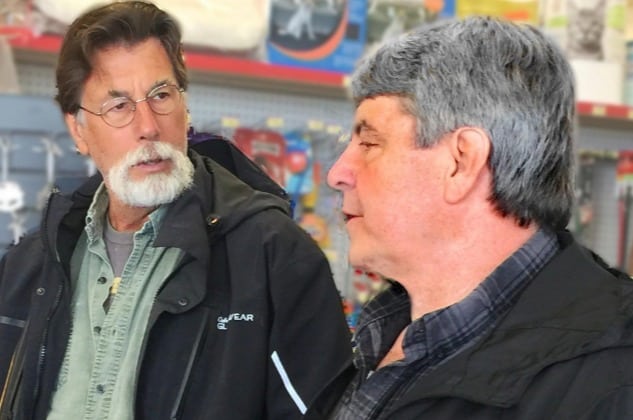 Oak Island. One of the most mysterious places on the planet. The primary setting of a highly popular TV series on the History Channel where two brothers and their teamwork to unlock the mysteries of the island, which is well known for its myriad myths and rumors of buried treasure and historical artifacts going back centuries. Is all that about to change? Author James McQuiston believes the multi-century search for buried treasure on this island will continue for years. Indeed he says,  "Oak Island is not so much a mystery to be solved as it is a chance to experience the unapologetic fascination of youth again." This quote just reflects McQuiston's interest in Oak Island and its mysteries.
A fellow of the Society of Antiquaries of Scotland, McQuiston, a historian and author who has previously written two books on Oak Island to reflect his interest in the mysteries there, and his own contributions to uncovering them, now has a third book to add to the list. He has already previously traveled to Oak Island in order to speak to the people there already who, like him, are fascinated by the mysteries that are just waiting to be unlocked and revealed for all. He has already discussed his theories about who have previously visited the island and hid something of value there and exchanged information with him in order to complete and continue with the research he has been following for many years.
He is now expected to appear in one of the later episodes of "The Curse of Oak Island."
While this sixty-nine-year-old historian cannot go into great detail about what his work on the show, and he hasn't managed to publish the book because of a non-disclosure agreement, has learned from the show that his theory has been greeted with enthusiasm. Apparently many people have taken in theories about the island's past, but there hasn't been any proof to back them up. McQuiston's theory is different because he has fully researched the ideas.
When did McQuiston become interested in Oak Island?
The interest James McQuiston had towards Oak Island began in 1965 where he read a Reader's Digest article about the island, and he was intrigued by the island's strange money pit which in itself is a current, ongoing mystery on the History Channel show. The money pit has led to legends, publications, and indeed the History Channel show where so many discussions play out that a teenage boy and some of his friends discovered a depression in the 1790s. They dug down, and they discovered a series of buried wooden platforms deep underground, and they seemed to go even deeper. This discovery led to many more searches in the future for what many people who take part in them believe is the quest to discover something valuable buried underground.
It wasn't just McQuiston who was inspired to look into the mysteries of this island – the "Reader's Digest" article has been one of many such inspirations for a number of people to travel to Oak Island to discover and solve the mysteries of what is beneath the surface of this island, and see what is in the Money Pit. Over the years the search has become more large scale as more expeditions arrive with more advanced equipment to try to get even further.
But McQuiston didn't think about technology when he read the article in Reader's Digest. He was just thinking about picking up a spade and digging treasure up with it. His interest returned in 2016 when he was in the midst of rewriting a book when he was speaking about his family about their title of Baronetcy of Nova Scotia, and he wondered what it meant. McQuiston got in touch with the people on Oak Island, asking questions, which sparked his research which led to him writing "Oak Island: Missing Links."
He decided to write the book to prove people could have traveled close or to the island in the days before Columbus landed in America originally, noting the evidence of Viking relics and ruins in the local vicinity. He also noted the Knight's Templars, the voyage of Sir Henry Sinclair in 1398 to Nova Scotia, to the establishment of a New Scotland.
In 2017, the team on Oak Island invited the author to come to discuss his book, leading to more research. McQuiston struck up regular contact with the main historian of the group, Doug Crowell, and in the end, McQuiston got started on writing his second book on Oak Island.
But now many new exciting things are happening as McQuiston continues with his research into this mysterious island, discovering new things long after his second book. He returned to an Oak Island where there was seismic survey probing deeper and deeper into the money pit to see just how extensive it was, and a barrier gateway to keep the number of people treasure seeking to a minimum while a waiting area for tourists had been constructed. It was there me met Rick and Marty Lagina.
There he learnt about an artifact that had been discovered already in a previous search during the 1970s near the island was in fact linked with the mystery, held closely by who had discovered it. Unfortunately, while McQuiston can't yet reveal what the artifact is at the moment, though he did figure out what it was, who found it and when, the person arrived on the island and showed them. It's just unfortunate a TV production company wasn't there to video the event.
However, the good news is there were photographs taken of the event and there were talks about the artifact, which made it a big find and hopefully created a dent in the mystery surrounding the Island.
When he got home, McQuiston realized if this theory about the history of the island turned out to be the last theory he came up with, he had better have a book to document it and his research, which is based on actual documentation, some which he has tracked down with great effort.
McQuiston was amazed they even existed, never mind they could be found, but he is dismayed no-one has tried to put them together, which makes this particular book exciting if his theories prove to be right. While he has written the book, he stayed in touch with the team in order to provide it with extra supporting evidence which makes it pretty exciting.
He also hopes the team searching on Oak Island continue to discover fresh mysteries.