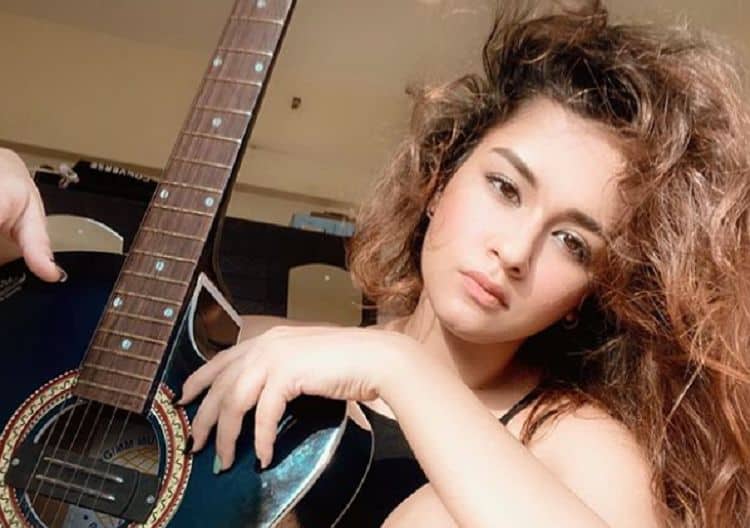 Tik Tok is slowly replacing Instagram and other older social media platforms that we once knew. Every day, it seems that there is a new app in development or on release and Tik Tok formerly known as Musical.ly is one of them. The app has taken the world by storm and its wave seems to have reached the Asian community and most especially India. There are a lot of Indian stars who have risen to fame through the app including Manjul Khattar, Garima Chaurasia, Ritika Badiani, and Avneet Kaur just to mention a few. Most if not all of these stars are using the app as a bridge and to hopefully gain entry into the big Bollywood film, industry.
Avneet Kaur was born in Jalandhar, Punjab in India on October 13th 2001in a Sikh family. Her mother is a housewife and she is called Harpreet Kaur and her father's name is Anandeep Nandra. She has an older brother called Jaijeet Singh and a little sister called Navreet. She did most of her schooling in the Police DAV Public School. Later on, the family moved to Mumbai and the young Tik Tok star is currently in 12th grade in the Oxford Public School in Mumbai. Avneet Kaur is currently the youngest dancer and actress in the Indian television industry.
Here are 10 things you might not know about Avneet Kaur:
1. She is a singer
Avneet Kaur is a renowned singer in Indian music and some of her working credits include Main Fir Nai Auna which she featured Nick Nannu, Mere Naina Song which features Karan Singh Arora and Yaari 2 which she worked on alongside Nikki. Her songs are available for download online and can be found on the website Gaana.com.
2. She is an actress
Kaur made her first acting debut with the movie Meri Maa which airs on the network Life's OK in 2012 where she played the role of Jhimhil. She was later featured on the show Savitri where she played Rajkumari Damyanti. In 2013, she played Pakhi in Ek Muth Aasmaan which aired on Zee TV. Avneet's official filming career began in 2014 with the film by Pardeep Sarkar called Mardaani. Later that year she played Charumati in the show Chandra Nandini. Her latest film appearance was on the show Aladdin-Naam Toh Suna Hoga where she played the character of Yasmine.
3. She is a dancer
This Tik Tok star can not only act and sing, but she can also dance too. Kaur began her on-screen career as a dancer in the dance show by Zee TV called Dance India Dance Li'l Masters. She was unfortunately eliminated right before the semi-finals but was among the top 3 contestants on the show in 2010. She went ahead to participate in Dance Ke Superstars where she joined a team called Dance Challengers. Her other notable dancing show was the celebrity dance reality show called Jhalak Dikhhla Jaa that aired on Colors TV. She participated alongside Darsheel Safary but was eliminated.
4. Her income
Avneet Kaur earns her income from various gigs such as her acting career which seems to be going well for the young actress, her YouTube videos through sponsored content and also through her music career. Her estimated net worth as of 2019 is about $500,000.
5. Social media
Avneet Kaur is an internet sensation and she boasts of a huge fan base. She can be found on all the social media platforms including Twitter, Facebook, and Instagram which are all self-titled. Her Instagram account boasts of over 3 Million followers while her Tik Tok account has over 2.5 million followers. She has received over 19 million hearts on the platform. She makes short sketches on her Tik Tok account to keep her fans entertained. Kaur is currently one of the most followed internet sensations and social media influencers in India.
6. She is a model
With her pleasant looks and a large following on social media, the actress has managed to secure some modeling gigs throughout her career. She has appeared in television commercials for major brands such as Clinic Plus, Maggie, Knorr and Lifebuoy Handwash among others.
7. Hobbies
To unwind, Avneet Kaur loves to read a lot of fiction books such as the Harry Potter series by JK Rowling, and Fault In Our Stars among others. She regularly posts her favorite book quotes on her social media handles. The TIk Tok star also loves writing poems and reading them out to audiences. She loves swimming and drawing. Kaur shares some of her artwork and those of her fans on her Instagram page. She loves listening to songs by Sundhi Chauhan and her favorite film is Kuch Kuch Hota Hai. Her favorite actress is Deepika Padukone and she enjoys eating pasta, chocolates, and cheese.
8. Awards and achievements
Having a successful career such as the one Avneet Kaur has, would at least earn you one or 2 awards to your chest. According to Biography Wiki, she was featured as one of India's Top 20 Young Achievers under 20 by sutraHR. She received the Bharat Icon Awards for the Best Child Actress category.
9. Distinctive features
Avneet Kaur is 160 centimeters tall and has dark brown eyes and dark hair. She currently has no tattoos.
10. Her parents are healers
According to Celeb Hungry, Avneet Kaur's grandparents Satnaam and Iqbal Kaur who live in Jalandhar in India run a medical hall in Saint Nagar town. The Tik Tok star always visits them as much as she can and calls them almost daily.
Summary
Avneet Kaur has risen from being a child actress to branching out into other different genres in the industry. She has been active since 2010 and it seems the young actress is only getting started. She is currently focused on finishing her studies and advancing her career forwards. From the look of things, there is no stopping this star from shining and we can only hope to see her grace more films in the future.