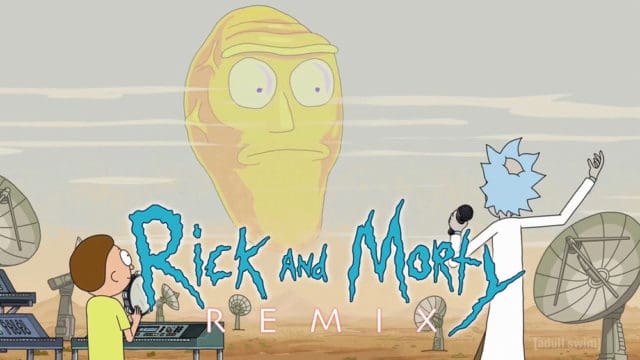 Ever get a headache wondering why certain shows are still on the air? Rick and Morty are starting to give me migraines from trying to figure out how they continue to be so popular and yet I can't deny that the season 3 remixes in this article are a little catchy. It doesn't make me want to watch the show but the melody of each remix is at least enjoyable. The content though is something I could do without. Don't ask me why but this show seems to have enough depth, enough material, and enough pertinent content, it just doesn't have a lick of sense to it. Is that the appeal?
Is brainless the new thing in television? If so it's obviously found a home with Rick and Morty. It might not be on the same level as a few others that could be mentioned but it's certainly found a way to endure for this long, and how is still a mystery to me. Any and all fans that might read this can criticize me and tear the article down, but the truth is that I'm not alone in wondering why Rick and Morty have become so popular.
Remixes of anything can go one way or another but at least with Rick and Morty that seems to be neutral ground for the most part. The show is so out there that going over the top or not going far enough could benefit it either way it seems. To be quite honest the remixes here seem a little longer than they need to be but then again that hammers home the point that Rick and Morty can make that work to their advantage as well. The show is great at being a catch-all for all kinds of ridiculous things.
Can you imagine having a father in law like Rick? He'd make your life a living nightmare it seems like and have fun doing it most likely. For the most part he tries to be a decent person, if not a good man, but it always seems like he's up to something that will eventually just make life harder for those around him. He's the kind of relative you're glad to see just once a year, and even that is too much sometimes.
Rick seems to jump the line between redemptive and absolutely psychotic like some people play at jump rope. His moral compass is so far off north that he's become one of the least trustworthy people on the show and yet he's one of the main characters. If there were a Rick character in D&D he'd be the perfect example of chaotic neutral, with big emphasis on the chaotic.
Why would anyone want to turn themselves into a pickle? This isn't the first time that this issue has come up it seems and it's a turn of events that seems fairly important in Rick and Morty. But a pickle, really? There are so many reasons I don't watch this show.
If you enjoy it, great, I hope it makes sense to you. Otherwise I'm off to another level of crazy that makes sense.
Save