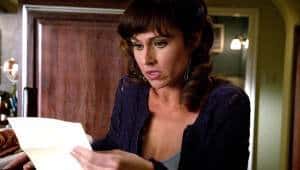 Jenna's highschool is knee deep in a potential scandal in tonight's all new episode of Awkward. Here's what you're in store for:
Sex, Lies and Videotape: The students discover that a security camera accidentally spent a few days pointed at the "Sanctuary" behind the football field and all of a sudden everyone is completely freaked out about what may have been caught on tape. Among the offenses that could be discovered is a self-proclaimed vegan chowing down on a hamburger. Normally this wouldn't be a huge problem, but one of the tapes has allegedly gone missing and everyone is terrified that their secret will be leaked to the student body at large.
The Triangle Gets Trickier: Of course, the hamburger incident is nothing compared to Jenna's fear: that the tape shows her and Matty having sex behind the bleachers. So she's in a huge quandary: does she tell Jake that the boy she previously dated (and slept with) was Matty, or does she keep it quiet and hope that she doesn't get exposed? Matty's also in a huge bind, because at first he's clearly desperate to tell Jake the truth so that he can be with Jenna, but then has a change of heart. The question is, how long will Matty continue to pursue Jenna, and is Jenna finally ready to settle down with Jake or does she still harbor feelings for Matty? You'll definitely see some resolution in tonight's episode.
Asian Mafia: In order to get her hands on the tape, Jenna insists that Ming help her out. And which school clique is powerful enough to track down this missing tape? The Asians. Ming sets out to befriend Becca, a scary and very omnipotent Asian who spends all of her time putting Ming down, but is also someone she clearly doesn't want to cross.
A Mother's Secret: While the students at school are all dealing with secrets, Lacie is dealing with one at home. After Jenna told her mother that she knows the truth about the letter, Lacie is still trying to keep the truth under-wraps. She wants to make it up to Jenna and feels horrible for what she did, but she's not really prepared to tell her husband about it, no matter how much Jenna threatens to do it herself.
Tonight's Awkward is another terrific episode from this MTV show that incorporates more humor than last week's season premiere, and just the right amount of heart.
Don't miss an all new episode of Awkward at 10:30 p.m. ET/PT on MTV.