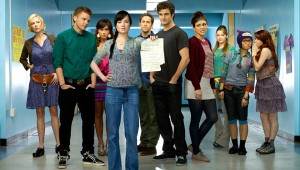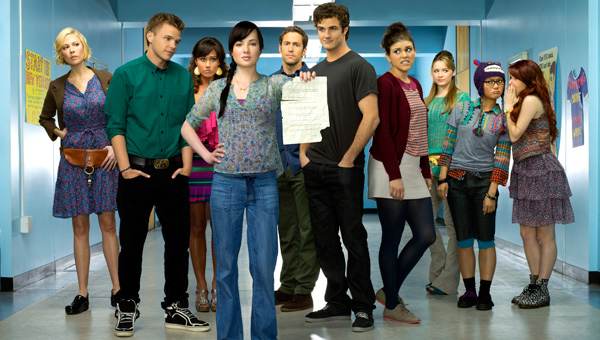 Awkward was like a surprise gift last season…one that you may not have expected, but was pleasing nonetheless. This adorable show from MTV turned out to be quirky, amusing and had a great deal of heart. The central mystery of the first season (who sent Jenna the letter?) was solved in a shocking moment of the finale when Jenna discovered that her mother, Lacey, had penned the mean (but supposedly "helpful") note.
The second season, which premieres tonight on MTV, picks up only a few weeks after the end of the first season. In addition to the shocking note discovery, Jenna also made her choice in last year's finale by picking Jake over Matty. Here's what you can expect to see in tonight's premiere:
The Love Triangle Lives On. Jenna and Jake spend most of the Christmas break making out everywhere, but that doesn't mean their new relationship is all smooth sailing. After Christmas, the pair decide to celebrate New Year's Eve at Matty's house party, but that just brings up all sorts of problems for Jenna, because Matty isn't prepared to take her choice lying down. In fact, he's determined to steal her away from Jake, albeit in an honorable sort of way. Once again Jenna is torn between the two teenage boys in her life. Unfortunately, for all the exposure the love triangle plot gets, it's probably the least interesting part of the episode. There really isn't that much difference between Jake and Matty, especially since Matty being a douche who was hiding Jenna, so it's difficult to get invested while she tries to reconcile her feelings for the both of them.
The Mother-Daughter Confrontation is Coming. Jenna may have discovered that her mother wrote the letter, but she's decided to keep that information to herself…for now. Despite that, her feelings towards her mother are less than friendly right now, which is understandable. Will Jenna finally spill the beans and confront her mom? Let's just say that Jenna's discovery will clearly play an important part in this season's storylines.
A New Mystery. While the letter mystery dominated last season, season 2 of Awkward introduces us to what could become the new season's story arc. In the premiere, Jenna's secret blog finally gets a comment…one that seems to come from someone who knows quite a bit about Jenna's personal life. Understandably, this freaks her out. But who could be the commenter?
The Supporting Cast is Still Going Strong. Tamara and Ming continue to bring the comedic relief to the show, with Tamara's tumultuous relationship with Ricky still making me laugh. Looking to the future, Ming gets a good storyline in the second episode that is particularly humorous, so that's definitely something to look forward to next week. Sadie is as mean as ever, ragging on Lissa, who is desperately trying to make amends with Jenna and befriend her. Guidance counselor Valerie continues to pop up unexpectedly in Jenna's life, although she occasionally becomes a caricature of herself before getting back on track. Nonetheless, some of the funniest moments of the premiere come from the always stellar Awkward supporting cast members.
Awkward is still a joy to watch in its second season, although the comedy seemed a bit light in the premiere episode. Episode 2, however, brings back the funny and reignites my love for the show.
Don't miss the season 2 premiere of Awkward tonight at 10:30/9:30c on MTV.