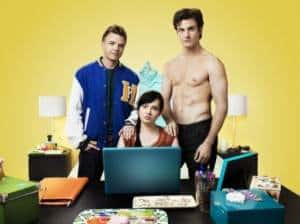 The awkwardness of Jenna Hamilton's life won't be letting up anytime soon, as The Hollywood Reporter is reporting that Awkward has been renewed by MTV. The third season of the critically acclaimed comedy will feature an extended episode order of 20 episodes, up from its current order of 12 and likely to be split into two arcs of 10 episodes each.
Awkward becomes the latest recipient of an amped up episode order for MTV, following in the footsteps of Teen Wolf and its 24-episode third season. The show has been unexpectedly lavished with praise by critics, including a Critics Choice Television Award nomination for Ashley Rickards and a place on many 2011 year-end top 10s, with the audience growing during the second season. Which is all the more impressive, considering the show benefited from a Teen Mom lead-in last season and had ratings grow from the first episode through the finale.
This season on Awkward, Jenna's had to deal with more problems than ever; it was one thing to endure the constant barrage of insults from Sadie, but her conflicted heart and the crumbling of her parents' marriage is weighing heavily. She may have finally gotten a little distance from Matty, but her feelings for him are still in the back of her mind and could eventually have an adverse effect on her relationship with Jake.
And don't forget about the mysterious commenter on her blog, who continues to leave cryptic, quasi-supportive messages on each entry. Could it be Jenna's mom trying to make amends? Tamara attempting to give her bestie an additional vote of confidence? Kyle not quite being over his obsession? Someone else altogether?
Awkward airs Thursdays at 10:30 on MTV following Snooki & JWoww, which is all but renewed for a second season itself.
Where do you hope Awkward goes in its third season? When do you think the show should air next season? Team Matty or Team Jake?