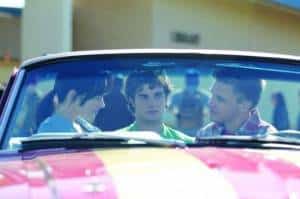 Jenna Hamilton may have gotten her dream guy in the first season finale of Awkward, but that doesn't mean that her life will get any less awkward.
In fact, things might have gotten even more complicated, as evidenced by the season two trailer that finds our heroine fighting Matty's seduction tactics and her uncertain feelings toward Jake. And with the separation of her parents, which comes thanks to the note that her mother wrote, Jenna has a whole lot to deal with at the moment.
You'd think that Jenna would be taking that much more solace in her relationship with Jake, a source of stability and never-ending positivity, but it looks like her feelings might not be as intense as his are. And perhaps, the thought of them becoming that intense scares her, to the point that she turns to the less serious (and less adult) Matty. It's almost like a metaphor for the current time in Jenna's life; she's still a teenager, but she'll be on her own very quickly and having to make major adult decisions. The choice comes down to whether she wants to have more time being carefree or whether it's time for her to make the next step toward adulthood.
Interestingly, the trailer shows Jenna both breaking down to her parents about her mother's letter and holding her mother's hand, so maybe, in order to deal with her increasingly confusing love life, Jenna had to let the animosity she had built up go once and for all. It's hard to constantly carry that much weight around and with her mother at a pretty low point as well, ever-compassionate Jenna might not see much of a point in kicking her while she's down. Lacey deserves to have some sort of comeuppance, but not many people could take comfort in their parent being miserable and alone, so you can understand Jenna's reaction to the news.
The second season of Awkward premieres Thursday, June 28th at 10:30 on MTV following the series premiere of Snooki & JWow.
Do you think that Jenna and Matty still have a chance? Should Jenna forgive her mother for writing the note that started it all?