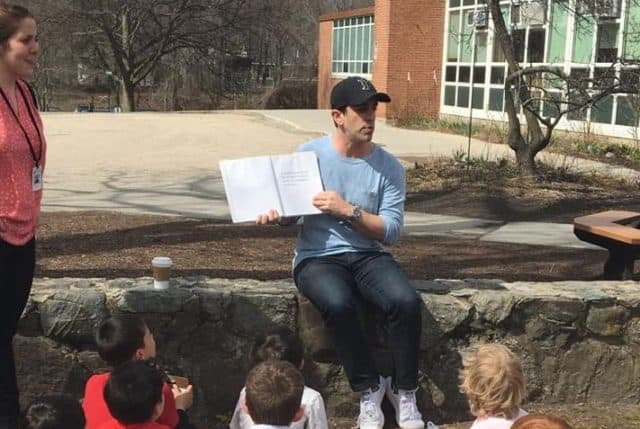 For some reason many people still don't know this about B.J. Novak.  He wasn't just one of the actors on The Office, he was one of the lead writers if not THE lead writer.  Novak's got an incredible talent for television as well as relating to people through the characters he creates.   Here's another thing you didn't know about B.J. Novak.  He's one of the "good guy" celebrities.  Novak's one of the guys who will always stop for an autograph if someone asks.  He'll take that selfie picture if you want.  He's just a solid human being, it's that simple.  No more apparent is this fact than the photo you see above.
A user on Imgur took this photo with the caption: Took my students for a walk and ran into B.J. Novak, he so kindly read his book to my students on the lawn of the school!
Yup, Novak was minding his own business when a class full of kids stumbled across him.  The teacher had one of Novak's books in her hand so what did he do?  Take time out of his day to read it to the entire class.  Oh yeah.  That's another thing you don't know about B.J. Novak.  He writes kids books, and surprise surprise, he's really good at it.
I love stories like this.  P.S. I'm not going to lie.  The best part about this photos are Novak's white sneakers and jeans.  Reminds me of 90s Seinfeld.