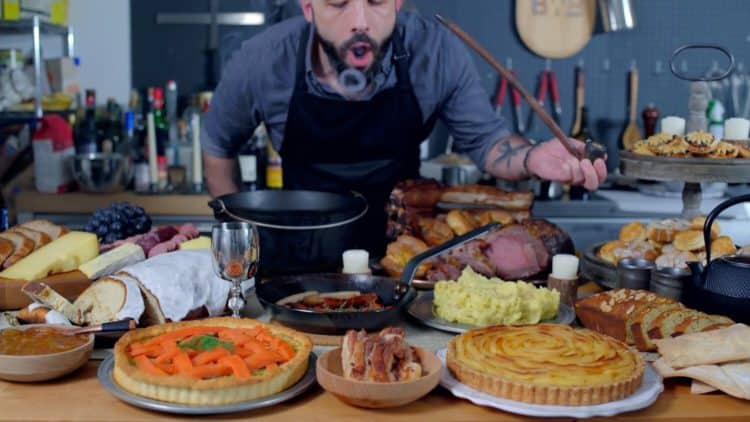 Does anyone else get jealous watching Babish cook? It's true that all you really need is the desire and the ingredients, as well as the directions if you're not that great of a cook, but there are times when actually having the talent would be a great idea as well. This time around Babish is doing something special since he's making more than one dish and he's doing this to give a big thank you to everyone that has been supporting him as he's reached for the millions and millions of views that he's earned. This Lord of the Rings meal that he's making is going to be more than one part and it's going to be a little difficult to be certain since some of the stuff he's making looks absolutely delicious, but at the same time, cooking some of it would take a good deal of time and patience that some of us admittedly don't have. In a world that offers dishes that are easily prepared and fast food that takes very little time a lot of people simply don't have the necessary willpower to slow down and really appreciate the time and effort that are required to create some of these dishes, but there's no denying that they sound and look amazing.
Watching Babish makes everything look so easy, but one has to remember that behind the scenes he's doing a lot of work and everything we're seeing has been cut and edited down to show us the bare minimum and to give us the explanation of how things are supposed to go. It does make one wonder just how many times Babish has to cut and go over something again, or if that happens that much any longer. Like it or not, a lot of cooks that are willing to stand in front of the camera in order to educate and entertain the audience do tend to mess up now and again since human error is almost impossible to get away from even with endless repetition and practice. But what we see is still great enough that watching Babish is just as much fun as it's always been since he definitely puts on a show in the simplest and most mundane way, but somehow is still fun to watch as he goes about the practice of making one dish after another. Another question is where all this food goes since he tends to make some dishes that are quite big and would take a while to consume. Plus, does he like everything he makes?
Whether or not he likes all the dishes he makes or not, it does sound as though Babish is big into sharing the meals he makes with his neighbors when he has too many leftovers, which definitely makes him a very cool individual. Just imagine being his neighbor and wondering what he's going to roll in with one week after the next, that would be a treat in itself. If anyone's ever known someone that has a passion for cooking and doesn't mind sharing then they know very well how beneficial this can be when someone decides to share whatever they're not going to eat, rather than just toss it in the garbage. That's just another reason to enjoy Babish since it does sound as though he's a decent human being as well. But as many people that have watched his show can attest to, he has tremendous talent in the kitchen which is why he's reached 7 million subscribers at this point and is likely to reach even more as time goes on. Just think of how many more recipes there are to unveil and how many different pop culture references he could possibly make on his show and you'll get the idea that he's far from done and could easily be one of the best chefs out there since he's not bound by baking or simply cooking dishes that anyone could make with time and practice.
The LOTR meals that he's making don't sound incredibly difficult but they are time-consuming without a doubt and they do require that the cook actually pays attention to what's going on with each dish since otherwise, it's likely that any of these dishes could become a little too difficult otherwise. The twice-baked honey cakes look good enough that one can almost smell them through the screen, while the apple tart is definitely a must if you enjoy baking and aren't worried about taking a bit of extra time to make sure things come out as they should. The mincemeat pie is a little odd to be certain, but it doesn't sound horrible since the ingredients likely come together to form a very interesting taste that might entice a lot of people. Overall, Babish is doing what Babish does, and a lot of us can't help but continue to enjoy it.