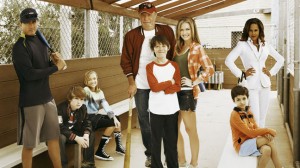 James Caan returns to television in Back in the Game, a new ABC comedy that focuses on baseball and family. Caan plays Terry Gannon Sr. aka The Cannon, an "opinionated, beer-guzzling, ex-athlete who never quite made the cut as a single father or professional baseball player". Psyche's Maggie Lawson stars as Terry Jr., an All Star Softball player who lost her shot when life threw her a baby, a lost college scholarship and a deadbeat husband. Terry Jr. and her son Danny (Griffin Gluck)Â return home to live with her father.
Terry tries to keep Danny away from the sports-driven lifestyle of her youth, but Tommy is determined to play Little League. His lack of baseball skills (he doesn't even know which hand the mitt goes on) makes him the laughing stock of the baseball field and of his grandfather's living room. But "when Danny and a group of other athletically-challenged hopefuls fail to make the team, Danny's disappointment forces Terry to face her past. So when a wealthy neighbor volunteers to finance a team for the rejected kids, Terry reluctantly offers to coach the team of misfits."
Back in the Game stars Maggie Lawson (Psych) as Terry, Jr., James Caan (Las Vegas) as Terry "The Cannon" Gannon, Sr., Lenora Crichlow (Being Human, Fast Girls) as Gigi, Griffin Gluck (Private Practice) as Danny, Ben Koldyke (Big Love) as Dick, Kennedy Waite (I-Doll) as Vanessa, J.J. Totah (Jessie) as Michael and Cooper Roth as David.
Back in the Game was written by Mark and Robb Cullen (Lucky, Las Vegas), who also executive-produce along with directors John Requa and Glenn Ficarra (Bad Santa, Crazy, Stupid, Love) and Aaron Kaplan (The Neighbors).

Back in the Game is set to air Wednesdays at 8:30. You can check out ABC's 2013-2014 schedule here.
[cf]video_one[/cf]