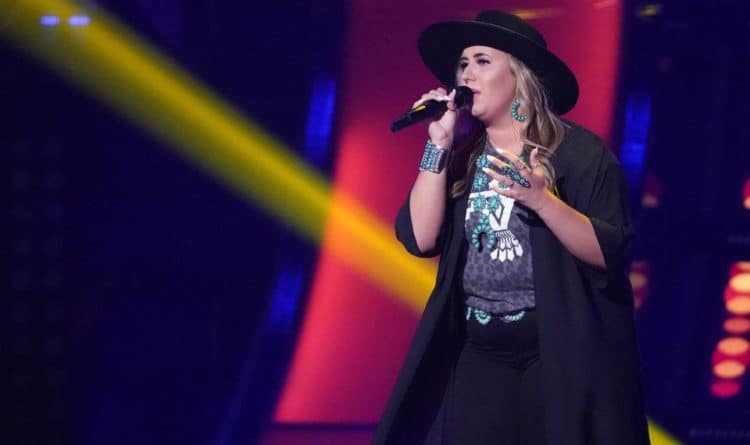 Performing on a big stage like the one at The Voice can be a scary experience, but 18-year-old Bailey Rae had no trouble rising to the occasion during her blind audition, and she has been leaving people in awe of her skills ever since. The talented teenage singer has an incredible amount of range and vocal power which is quite impressive for someone her age. Although country music is her speciality, it's clear that she can do just about anything. As the competition continues, Bailey is showing that not only does she deserve her spot, but she has what it takes to make it all the way. Keep reading to learn 10 things you didn't know about Bailey Rae.
1. She Is Originally From Oklahoma
Bailey was born and raised in Oklahoma which is where she originally developed her love for music. These days, however, Texas is the place that she calls home. She has been doing her thing on the Texas music scene for the last few years and she's become a big part of the community there.
2. She Started Singing At Church
Bailey grew up in a family where she was surrounded by music and she knew that she wanted to sing at an early age. She got her start by singing at her church. By the time she was a teenager, she knew that singing was what she wanted to do and she began to pursue a career in country music.
3. She Loves To Travel
Bailey loves to get out and see the world as much as she possibly can. Luckily, she's picked a career path that will give her plenty of opportunities to do just that. As an avid traveler, she has gotten the chance to visit lots of great places all over the United States.
4. She Is A Dancer
Singing isn't the only area of music that Bailey has been involved in. Before she got serious about her singing career, she was heavily involved in competitive clogging. According to her website, she won several national championships and her team even competed at the World Dance Championship.
5. Her Faith Is Important To Her
Bailey is a devout Christian and her faith in God plays an important role in everything she does. All of her social media bios include the word "Jesus". As the competition gets more and more intense, there's no doubt that Bailey will lean on her faith to get her through the stressful moments.
6. She Already Released Her Own Music
Contestants on The Voice come to the show with a variety of experience levels. While Bailey is hoping the show will be her big break, she's already done a lot of ground work. She's released several singles, one of which ("Never Been This Lonely") earned a spot on the Texas Country Music chart.
7. She Is A Record Collector
At just 18-years-old, Bailey wasn't even thought of when records were people's primary way of listening to music. In fact, she might even be too young to really even remember CDs. However, as a serious music lover she developed a strong passion for collecting vinyl albums. She has been growing her collection for years and she currently has hundreds of albums.
8. She Has A YouTube Channel
Since being on The Voice, Bailey has built a strong fan base full of people who are eagerly looking forward to her next performance. The good news is that if you need your Bailey fix in between episodes of The Voice, you can check out her YouTube channel. Her channel has more than a dozen videos of live performances Bailey has done over the last couple of years.
9. She An Ambassador For Texas Country Music Hall of Fame
Bailey may be young, but she's very serious about what she does. She's already building a strong foundation that has earned her the respect of some of the biggest names in the Texas country music scene. In 2020 Bailey was named the ambassador for the Texas Country Music Hall of Fame.
10. She Opened For Some Big Country Artists
One of the best ways for an up and coming artist to gain exposure is by opening for bigger acts. Bailey has already gotten a good amount of experience performing in front of large crowds thanks to getting the chance to open for others. Some of the musicians Bailey has opened for include Larry Gatlin and the Gatlin Brothers, Doug Stone, and Linda Davis. Hopefully when her time on The Voice is over, she'll have people opening up for her.