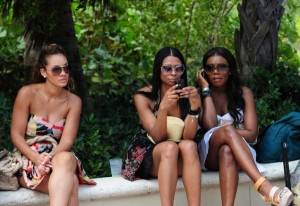 It's been a busy off-season for VH1's Basketball Wives, filled with rumors about which ladies would be staying on for season four and just what direction the show would be taking. After dumping one season wonder Meeka Claxton and retaining the services of Royce Reed, Basketball Wives has filled out its roster by not one but two spots.
TMZ is reporting that the new wives we'll be seeing are Kenya Bell and Kesha Nichols, two women apparently on opposite sides of the reality personality spectrum. Bell, married to veteran point guard Charlie Bell, is said to be the villain, having already stirred things up with multiple cast members. Nichols, on the other hand, has been well-liked, so don't expect to see Richard Jefferson's former fiancee with her claws out anytime soon.
Since Basketball Wives is all about bringing up other people's dirt, I should add that Bell has previously been accused of stabbing her husband with a box cutter and Nichols was left at the altar by Jefferson. Don't think either won't be harped on to death by the other wives (exhibit A), so prepare yourself for the gory details.
It's a promising development for the show, in that a new villain may keep it from becoming The Inner Circle Funtime Hour like I had previously feared. Basketball Wives got too bogged down last season with having everybody hating one person at a time, so it felt less like cray-cray reality TV and more like Grown Ladies High School; if Kenya can come in and throw Evelyn, Jennifer, Shaunie, and Suzie off balance, I have a feeling that season four of Basketball Wives may be the best yet.
Basketball Wives returns for an all new season of hair pulling and drink throwing in 2012.
What do you think about the addition of two new cast members? Will you be watching season four of Basketball Wives?