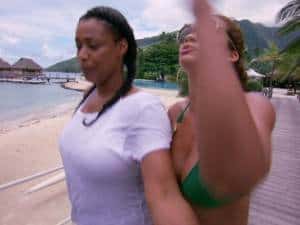 By the time that Evelyn and Jennifer had the same argument for at least the third time in 15 episodes, I had washed my hands of this season of Basketball Wives. It's been a rather cold, repetitive, mean season, a season that not even the gorgeous Tahitian scenery could reinvigorate. And the sneak peek of the finale (!) is a pretty good snapshot of everything wrong with this season of Basketball Wives.
Evelyn's hypocrisy, for one, is just the most; you're extra pressed over Jennifer not backflipping over your relationship and yet you're doing a reality show…about your relationship? Shaunie's faux fence sitting, claiming to be impartial but one iota away from rocking her Team Ev hoodie, has grated since day one and having her talk down to Jennifer doesn't help matters. More troubling is Kenya's insecurity. I'm all for forgiveness and moving on, but how can you be palling around with the same people that have been brutal to you since the first day they met you? And have thrown objects at you, threatened you, etc.?
And let's not forget Tami, who can't go an hour without having something toxic to say or someone to put on blast. (Watch the entire video to hear a comment about she made about Royce.)
But, you guys…this is just the first 10 minutes of the episode. That means we have at least 32 more minutes (not counting commercials) remaining with this house of hot messes, likely filled with the same type of circular arguments and inappropriately violent behavior that has made season four of Basketball Wives pretty darn harrowing to navigate.
The solace I find in that? The reunion is next week and after that…we're done. Done – the sweetest four letter word that could be applied to the Basketball Wives.
The season finale of Basketball Wives airs Monday at 8:00 on VH1. If you missed my thoughts on the last episode, you can check them out here.
As a bonus, because I greatly appreciate anybody that's read and commented this season, here's a reunion sneak peek where Evelyn (hilariously) does damage control about how horrible she came off in season four.