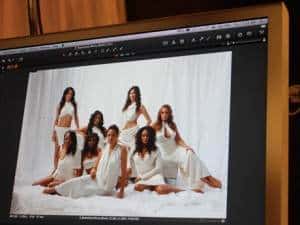 By now, you've surely gotten caught up to speed in the Basketball Wives gossip circus, a pre-cursor to fully understand the recently released season 4 supertrailer. The hiatus hasn't been quiet for the ladies of Miami, with friendships shattering, new business opportunities popping up, and a whole lot of anticipation building for season 4. Ahead of its premiere in a few days, VH1 has released a seven minute sneak peek which pulls no punches from the get-go.
What most interested me, though, was a brief clip at the end of the preview, where Royce confronts Suzie about her behavior last season; once the latter got re-accepted by "the circle", she all but ditched her former friend, a bit of shadiness that undermined her "I don't like drama" mantra. Suzie did everything in her power to be "cool" last season, becoming the eyes and ears of "the circle", and that cost her what seemed like a real friendship in Royce. Though Royce may be outspoken and unafraid of anybody's BS, this'll be the first time the two confront their issues and I'm curious if it will lead to a reconciliation or further distance.
Don't cry for Royce, though, as the sneak peek introduces us to Kesha, dancer and former fiancee of Richard Jefferson. The two seem to hit it off right away, but you have to wonder if the newbie, who comes like a sweet, normal girl, can hang with the drama monsters of Basketball Wives. Meeka got swallowed whole by the experience last season, so Kesha'll have to do her best to avoid becoming the group lightning rod if she wants to see season 5.
Elsewhere, it's, of course, very Evelyn heavy. The Jennifer shade begins (her talk about only wanting supportive people at the wedding) and ends (the argument she threatens to punch Jennifer in the face) the sneak peek, so expect season 4 to continue to focus on their suddenly broken powder keg of a "friendship".
Basketball Wives returns on Monday, February 20th at 8:00 on VH1.