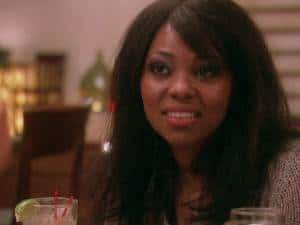 On last week's episode of Basketball Wives, the veil of secrecy around newbie Kenya Bell was lifted, thanks to the discovery of her Youtube videos and the possibility of Kesha helping supply her with video dancers. After receiving mostly negative vibes from "the circle" and scaring away Kesha with her lack of polish, you'd think the worst would be over for Kenya, but this is Basketball Wives and the drama can always go to another level.
For now, though, only one of those two areas worsened, with Evelyn reacting not as awfully as you might imagine. Sure, there are talking heads about Kenya's wig and whatnot, but for Evelyn not to have made a big fuss about the videos at dinner is a little strange/refreshing. Either she's saving the insults for a later date or maybe she didn't think that Kenya's videos were the end of modern pop music like Suzie did.
No, the drama this time came from Kesha's remarks last week. She pulled out of being involved in the video after thinking that Kenya wasn't as professional as she could have been and apparently, Kenya's still a little salty about that, bringing it up at a rather inappropriate time. I understand Kenya feeling a little hurt, even if what Kesha said wasn't that bad, but c'mon, be a grown up and talk to her about it, woman to woman, if it's a problem. Don't put her on blast like that in front of a panel of people.
Elsewhere, Evelyn gets advice from Aunt Tami about not listening to the gossip about her relationship and Kesha brings up Kenya's little episode in front of the entire group. Any idea who'll take whose side there?
Basketball Wives airs Monday nights at 8:00 on VH1. If you missed my thoughts on the second episode, which found Suzie feeling herself a little too much, you can check them out here.