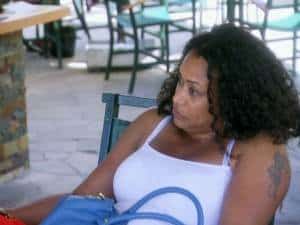 The Basketball Wives always seem to act up on vacation. In each of the first three seasons, some type of major confrontation happened, whether it be physical (Tami hitting Meeka in Italy) or otherwise. It came as no surprise that the trip to Tahiti wrought drama, with the ladies being stranded on an island together, but last week's episode might have been the most outrageous yet. How in the world could they follow a relentless, disturbing hour like that?
By bringing back Jennifer and Kenya, two ladies whose mere presence ruffles Evelyn's feathers. And it doesn't take much time (at all) for "the circle" to work itself into a lather at the thought of having a "talk" with each. At this point, everybody, listening to Evelyn, Tami, and Shaunie go on about not liking drama, clearing the air, and talking to each other calmly is just silly and insulting to the viewer. You know and I know that the second Evelyn gets around Jennifer and Kenya (or Tami gets around Kesha), all bets will be off and something drastic will happen.
Interestingly enough, Kenya might be the one to get things going, considering her anger and desire to talk to Evelyn at the end of the clip. I'm not a proponent of violence, but if it means that one of the "outcasts" can finally (finally!) stand up to the bullies in the circle, let's get ready to rumble. And let's be honest – Evelyn may talk a big game, jumping on tables and calling every speck of dust a bum, but Kenya has the quiet demeanor of somebody that could knock anybody's block off. Evelyn says that she's "about that life"; Kenya may have to show her what "that life" is all about.
Basketball Wives airs Monday at 8:00 on VH1. You can check out my thoughts on the last episode and why I found it so disgusting here.