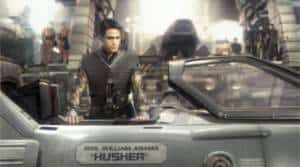 Battlestar Galactica left a huge hole when it left our screens. As far as space operas go, Battlestar had become a singular experience for its fans, deftly mixing cinematic quality action sequences with an overarching plot that was at times transcendental for its form. And the cast, oh that cast; without the peerless performances of the Galactica gang much of that drama and tension could have easily been seen as banal soap opera stuff.
Syfy attempted to resurrect the franchise once before with Caprica. Caprica divided the fandom a bit. It was a huge departure from the source material, and despite having a decent cast it's seemingly forced attempts at being hip and 'elevated' often got crushed under the weight of its own cheese. There's this whole back-story to the tragedy that became Caprica that begins with the once rejected pilot script being near the top of the slush pile when the writer's strike put pilot development season in hibernation, but why dwell? We now have Blood and Chrome to look forward to.
Blood and Chrome was originally going to be a web series. Apparently, Syfy was so impressed with what they were seeing they decided to give it series order. Personally, I'm less concerned about Blood and Chrome ascending from humble beginnings than I was about Caprica's rise from the dead. For starters, Blood and Chrome is all about the action, baby.
Having great faith in the Battlestar Galactica franchise I've been chomping at the bit for some time to get a look at Blood and Chrome. Taking place during the first Human Vs. Cylon war, Blood and Chrome seems like a concept more rooted in the proven Battlestar Galactica method. So far, the trailer below has proven that the Blood and Chrome team has nailed one side of that formula: B&C clearly will possess a large quantity of concentrated kick-ass. Great effects, fast action, real edge of your seat stuff. The few glimpses of the Cylons that we see are suitably primitive enough to be just slightly more barbaric in appearance than BSG's models, while the classic design of the Cylon raider is a major kiss on the forehead to fans of the way-back version of Galactica circa 1978.
What the trailer does not indicate is whether or not Blood and Chrome will have the overarching complexity of character and narrative that made Battlestar Galactica such a joy. That infectious mix of hyperbole, mystery, unlikely romance, and existentialism will be tough to replicate. It would be a tough act to follow but, as Caprica seemed to punctuate, just as hard to get in front of. In order to see how well they replicate that part of the Galactica formula, we'll just have to tune in when Blood and Chrome premieres on Syfy.