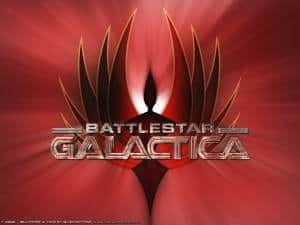 The final season of SyFy's Battlestar Galactica was triumphant at the Television Critics Awards on Saturday. Critically-acclaimed but oft-snubbed at the major awards ceremonies, Battlestar defeated ABC's Lost to the Program of the Year prize. Battlestar ended its final season with a thought-provoking finale, with the revelation that the show was set in our past rather than our future — a rarity amongst science-fiction. Upon receipt of the award, Mark Stern, executive VP of programming at SyFy, had this to say to Daily Variety: 'It certainly feels appropriate that we received the acknowledgement from the people who were champions of this show from its outset.'
This year's TCAs were a triumph for the less-recognised. One such example is CBS'The Big Bang Theory, which gained a single Emmy nom for Jim Parsons (Lead Actor in a Comedy Series), but was inexplicably snubbed for the Outstanding Comedy Series category in spite of the increased buzz garnered by its successful second season, which received an average rating of 10.14 million viewers. Not only did Parsons win Individual Achievement in Comedy at the TCAs, but the show itself was voted as the top comedy.
HBO fared best on the evening, earning three awards, including Outstanding New Program for its vampire drama True Blood. The drama, which stars Anna Paquin and Stephen Moyer, was also largely ignored in the major categories at this year's Emmys but defeated JJ Abrams'Fringe to land this award.
The sophomore season of AMC's Mad Men took the gong for Individual Achievement in Drama for a second year running, ensuring yet another award to follow the Golden Globes, Emmys and BAFTAs garnered by its opening season. Matthew Wiener's office drama set in an advertising agency represents yet another victory for cable programming, which goes from strength-to-strength as it continues to outmuscle its network counterparts.
AMC were also triumphant in the Individual Achievement in Drama category, awarded to Bryan Cranston of Breaking Bad for his portrayal of Walter White, a cancer-ridden high school chemistry teacher who turns to a life of crime following the diagnosis of his disease.
The lack of network winners in all but a couple of the major categories says a lot of the way the tide is currently turning. The awards seem to prefer rewarding shows that have critical acclaim but not necessarily higher ratings. Is this a fair representation of quality? Possibly not. But if it helps the networks raise their game, then that has to be a good thing.
Full list of winners:
PROGRAM OF THE YEAR: Battlestar Galactica (Syfy)
OUTSTANDING NEW PROGRAM: True Blood (HBO)
OUTSTANDING ACHIEVEMENT IN DRAMA: Mad Men (AMC)
OUTSTANDING ACHIEVEMENT IN COMEDY: The Big Bang Theory (CBS)
OUTSTANDING ACHIEVEMENT IN NEWS & INFORMATION: The Alzheimer's Project (HBO)
OUTSTANDING ACHIEVEMENT IN CHILDREN'S PROGRAMMING: Yo Gabba Gabba (Nickelodeon)
OUTSTANDING ACHIEVEMENT IN MOVIES, MINI-SERIES & SPECIALS: Grey Gardens (HBO)
INDIVIDUAL ACHIEVEMENT IN COMEDY: Jim Parsons, The Big Bang Theory (CBS)
INDIVIDUAL ACHIEVEMENT IN DRAMA: Bryan Cranston, Breaking Bad (AMC)
HERITAGE AWARD: ER (NBC)
CAREER ACHIEVEMENT: Betty White
Sources: