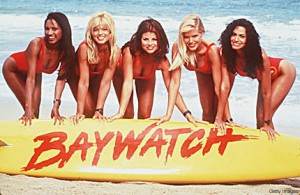 Just when you thought the boob-tube (pun intended) had finally moved beyond the Baywatch Era, the show seems to be creeping back onto the scene via a new reality project. What? That's right beachbums, four former Baywatch stars have decided to dip their toes back in the sand and give us something we've all been missing for far too long…okay, I lied about that last part. All their really giving us is more celeb-reality television, but if you like that sorta thing, you'll probably dig this!
The project is being called a "docu-comedy" and will center around former Baywatch stars Traci Bingham, Nicole Eggert, Donna D'Errico and Gena Lee Nolin. The tentative title of the show is Back to the Bay (see how they got around the copyright and ownership issues there?).
The follows the four women as they go about their every day lives, which includes Bingham opening up a new dating service (where she'll be her own first client); Eggert raising an almost teenage daughter and making exercise DVDs; D'Errico embracing the conspiracy theorist side of herself and searching for Noah's Ark (what?); and finally Nolan as she continues writing books about postpartum depression.
The project comes from executive producers Scott Stone and David Weintraub who have called the show "a fun summer romp on the beach." But does the world really need, or care about, another semi-celebrity based reality show that follows their supposed every day lives? It seems to me that using the word "docu" to describe this show is almost as insulting as using the word "reality" to describe the entire category of shows. But like it or not, Back to the Bay is coming…will you watch?