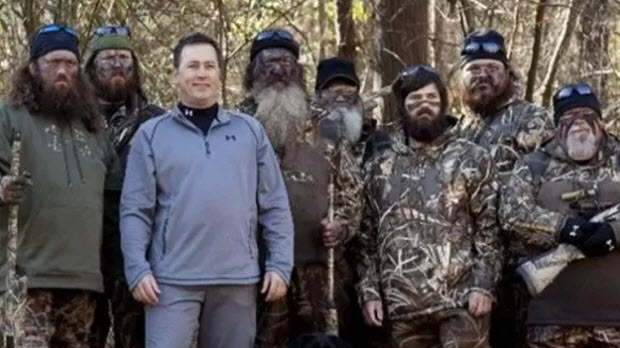 I haven't watched Duck Dynasty yet, but there are three things I know about it regardless.
1) It's about ducks
2) The cast has crazy beards
3) People freaking love it.
Seriously, the show is astonishingly popular, even heading into season four, and now it's looking to expand the cast even further by introducing a new brother.
And he doesn't have a beard!
I know, I know, the scandal. The new brother is Alan Robertson who sticks out from his brothers like a sort thumb as seen in the image above. They're introducing him to inject a bit of diversity in the mix. He's not a woman or a minority, but if you don't have a beard on this show, you are absolutely a minority.
He spoke to the New York Post about his joining of the show:
"Their beards are so iconic," he told the New York Post. "All this time I've been flying under the radar; I can go to Starbucks and get Mama coffee."
He also wants to use the show to evangelize.
"What I do for our church – it's a pretty good-sized church – impacts a lot of people, but because of my association with the show, I'll get to minister to a lot more people," he said.
Well alright then. Tune in this season to see more of Alan and his lack of a beard.