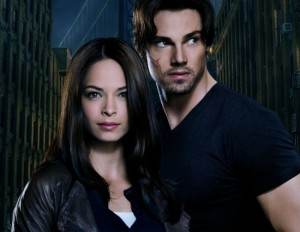 Smallville's Kristin Kreuk stars as Detective Catherine Chandler in The CW's Beauty and the Beast, which will be premiering this fall.
Years ago, Catherine witnessed the murder of her mother at the hands of two gunmen. Two gunmen who also tried to kill her. Fortunately for her – but not for them – someone (or something) managed to save her life by attacking the two men. Everyone told her it must have been an animal, but she's convinced that her savior was human.
In the present day, Catherine is working as a homicide detective, along with her partner Tess. A recent murder investigation leads them to Vincent Keller, a doctor who was reportedly killed years ago while serving in Afghanistan. Of course, it's not long before Catherine realizes that Vincent is very much alive…and very, very different. When he becomes angry, he gives in to the beast living inside of him. While Catherine agrees to protect his secret, she wants something in return: information about her mother's death.
The CW's version of this story is a more modern-day take on the original Beauty and the Beast series, starring Linda Hamilton. Clearly the network is behind this show, giving it the coveted spot of Thursdays at 9:00 p.m., following their strongest performer, The Vampire Diaries. For more on The CW's 2012-2013 schedule, click here.
During the Upfronts, we posted a short trailer and clip for Beauty and the Beast, but the network has now released an extended preview for the new series, which you can watch below.