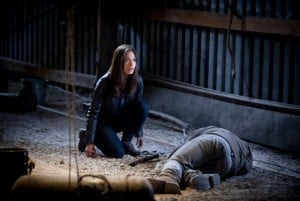 Beauty and the Beast was not well-loved by critics before or after its debuts, but apparently enough fans are enjoying the series to warrant a full-season order by The CW.
The most recent episode garnered 2.4 million viewers and a 1.3 rating among adults 18-34 and it's currently beating Emily Owens, M.D., another new fall 2012 show that has yet to receive a full season order.  Arrow, the third new drama to premiere this fall on The CW already got a full season order, which isn't surprising since it's the highest rated show currently on the network (yes, including The Vampire Diaries).
The CW has been playing around a bit with their schedule, moving the struggling Nikita back to 8:00 p.m. on Friday nights.  With only two series set to debut during midseason (and thus full empty spots on the schedule), and with Beauty and the Beast pulling in solid ratings, this full season pick-up is not that surprising.