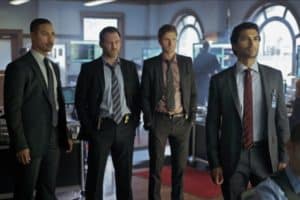 Things for Vincent and Catherine have never been ordinary, nor have they been easy, and in tonight's new episode of Beauty and the Beast, Evan gets closer to figuring out who Catherine has been hiding. And as if things couldn't be more difficult, it looks like Vincent's safe house will be raided by Joe and the NYPD.
We all know that Joe's hunt for his brother's killer will have no end until he finds him — and it looks like he will get very close tonight. My question is how they even got to that place and whether Evan may have followed Catherine there. He has been getting awfully close to figuring out who the creature is and from the voice-over, he suspects that Catherine knows the creature.  Let's just hope that if he is as close as he appears to be, that the information will be given to the right hands.
Meanwhile, Catherine and Vincent's relationship has finally started to blossom and despite Vincent's fears of hurting the person he cares about most, it looks like they will be getting a lot closer.
What are your thoughts? Will Evan figure out who the creature is?
Watch a promo, clip and producer's preview below and be sure to watch Beauty and the Beast tonight at 9 p.m. ET/PT on The CW.
http://youtu.be/_XwF6H0Oq1s
http://youtu.be/SIZJMk1ebsc
http://youtu.be/lzDcl-c7MVk