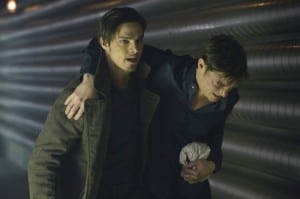 Beauty and the Beast makes it's beastly return tonight with the first of five all-new episodes that will lead us to the much anticipated season finale on May 16. VinCat fans are longing for these last episodes and trust me when I say I am too! In the meantime, it looks like Vincent's beastly secret isn't so secret anymore as Evan tracks him down tonight.
Minor Spoilers Ahead.
We all know that Evan's quest to finding the creature that ultimately saved his life is grand. And after pure speculation on his behalf, he finally was able to see that Cat is indeed connected to the beast he so badly wants to catch. However, his urge to protect Cat gets him to ultimately tip off Muirfield to Vincent's whereabouts. Of course, he's thinking he's acting accordingly, but what he doesn't know is that Muirfield happens to be the villain in Vincent's life and he just happens to be on the wrong side of things. And who better to convince him that Vincent is the good guy than Vincent himself? Not only will Vincent try to convince him to back out from giving Cat up to Muirfield, but also their feelings towards her.
Meanwhile, Tess is continuing to help and support her partner and friend. But, Gabe finds evidence that someone in the department is a mole who was working with the beastly vigilante. This can't be good, folks.
What are your thoughts? Will Evan be convinced to side with Cat and Vincent? How close will Gabe get to finding the mole in the department?
Watch a preview and sneak peek elow and be sure to watch Beauty and the Beast tonight at 9 p.m. ET/PT on The CW.
http://youtu.be/qsQcDxzcALY
http://youtu.be/bd6sm3Nig58