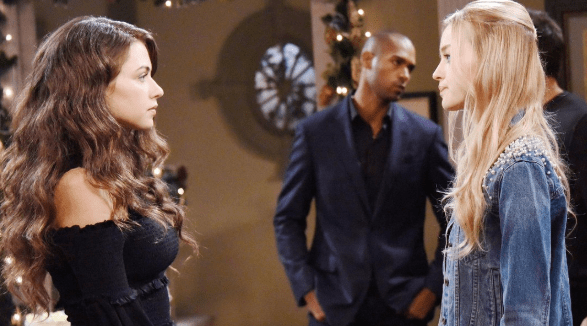 Days of Our Lives fans aren't going to get much option to see how things go behind the scenes of the show, but we do know that you might want to. The way things work in Salem might seem like they flow so nicely in front of the camera, but we all know there is a little behind-the-scenes action you might want to see more of. We all know that there is something going on we don't get to see much of. We all know that there is something that might make you feel good about the way things are going, and there is always something that might make you wonder if there is more to it. And, that's why we are here. We have a few behind-the-scenes secrets that might just come across as quite interesting to you if you're that kind of person. Do you want to hear them?
Hope Needed Help
Kristian Alfonso is one of the best actresses on the show, but she struggled for a long time with the role she took on. It's not a big secret that the filming schedule for a show like this one is majorly intensive. It's a lot of lines, and it's not a lot of time to remember them. The shows film several a week, and that is big-time stuff. There are so many things to learn, and the cast is expected to get things right on the first take every single time. There is no room, time, or patience for flubs, mess-ups, and imperfections. If you don't get it right, you might not have a job for very long.
Hope was one of those characters. She struggled for a while. Perhaps the fear of not getting it right and potentially losing her job before she even had time to like it was too much for her, but she also had a chance to make it right. She was a woman who was given an option, and she took it. She hired someone to come to her home at night to help her learn and run her lines, and she did this for a while. She doesn't do it anymore, because practice does make perfect, but it's how she got by for so long in the beginning.
They Have Favorites
It's probably not that much of a shocking secret to you to know that your favorite actresses and actors on the show have their favorites, but they do. Not all the actors like the story lines that their characters are given. Of course, not everyone who works anywhere likes everything they are asked to do. Even those who love their jobs and feel so good about them have days when they wonder what they are doing, why they have to do it, and they don't love it. It's par for the course. However, there are times when the characters also love their roles. They like the things they are being asked to do. Kate Mansi, who is returning shortly as Abigail Deveraux, is a big fan of her mental health issue stories. She loves those. Chad DiMera, otherwise known as Billy Flynn, has always loved the times he was able to work directly with his on-screen father, Stefano, the late Joseph Mascolo.
Kayla's Pregnancy
Well, it wasn't Kayla's pregnancy, but the actress who plays her was pregnant. Remember the first time that Patch and Kayla were intimate way back in the 80s? They were finally together after months of fans hoping that their romance would really happen. And guess what? She was pregnant in real life, and very much so. That steamy, intimate, passionate scene between the two of them was actually between three of them as they had to use a body double to play the role of Kayla, who was too pregnant to take on the role of a naked woman in the middle of a love scene. She used her face, but they used someone else's body. When you get down to it, that is a lot less sexy than it seems, but we won't forget that scene regardless. It just goes to show that love scenes are often less than sexy in every manner of speaking.