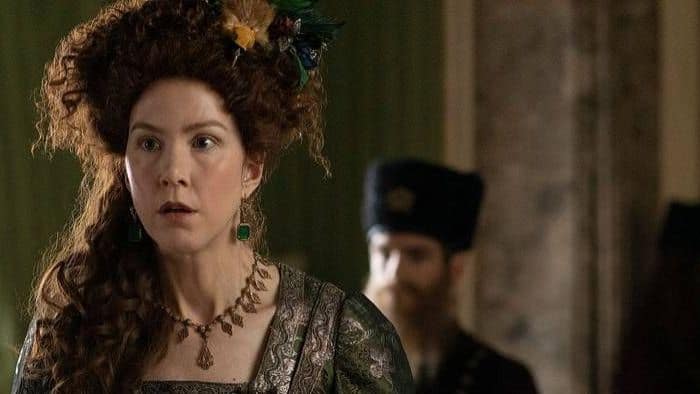 As actors get older, there is often a fear that they will be overlooked for roles and no longer be able to find consistent opportunities. However, Australian actress, Belinda Bromilow, is aging with grace. Now in her mid 40s, Belinda continues to be a force to be reckoned with. Not only has she had a great career, but she's still going strong. She currently has a main role in Hulu's new series, The Great, which is a comedic mini series partially based on the story of Catherine the Great. Continue reading for 10 things you didn't know about Belinda Bromilow.
1. She's A Wife And Mother
Belinda takes her career very seriously, but nothing is more important to her than her role as a wife and mother. Belinda is married to playwright, Tony McNamara, and she's grateful that she and her husband both work in the same field. They have two children together and McNamara also has a daughter from his previous marriage.
2. She Was Turned Down For A Role In The Theater Version Of The Play
The TV version of The Great isn't the first time Belinda has been interested in being a part of the production. She also tried out for a role of the maid, Mariel, in the original stage production. However, she lost the part to Mandy McElhinney.
3. She Auctioned Off The Earrings That She Wore To The 2019 Oscars
After attending the 2019 Academy Awards, Belinda decided to auction off her earrings for a worthy cause. She made a total of $9,000 and decided to donate the money to a non-profit organization called Mummy's Wish which is focused on helping women who are fighting cancer.
4. She Supports COVID-19 Lockdowns
Many countries all over the world have issued stay at home orders in hopes to prevent the spread of COVID-19. To some people, these measures are ridiculous, but to others they are necessary. Belinda Bromilow definitely supports the idea of people staying home to try to limit the virus' spread.
5. She Was Inspired By Filming In Italy
Getting the chance to film in different countries is always an exciting opportunity for an actor and can be downright inspiring. For her role in The Great, she filmed throughout the UK and the Italian countryside. The Caserta near Naples was one of the locations used for the show. Belinda says this specific place was so beautiful that it left her in awe. She told the Australian publication Nine, "I spent half the time with my mouth just open, pinching myself a lot."
6. She Didn't Do Any Research For Her Role On The Great
Research is usually a huge part of getting into character, but that wasn't true for Belinda's role in The Great. She admits that she did almost no research to prepare, because the tone of the show didn't really call for it. Instead, she took a much needed playful approach to her character.
7. She Had Her Breakout Role In 2008
Acting certainly isn't an easy industry to be successful in. Even if you're incredibly talented, you will still have to deal with lots of rejection. On top of that, it could be years before you finally land a noteworthy job. Belinda knows this all too well. It wasn't until 2008 that caught her big break after appearing in the play My Name is Rachel Corrie even though she had already been acting for years.
8. She And Her Husband Don't Discuss Work At Home
Even though Belinda and her husband work in the same field, they like to keep their work and persona lives very separate. They've made an agreement not discuss work when they're at home. So far, this arrangement seems to be working well for them.
9. She Likes To Read
Even if you have a job that you absolutely love, a little time off is necessary every once in a while. When Belinda gets the chance to take a break, reading is one of the things she really enjoys doing. Catching up on a good book gives her a chance to relax and recharge.
10. She Fought Cancer
Less than 3 months after giving birth to her son, Belinda was diagnosed with bowel cancer. She had to undergo surgery in order to remove the cancer. She told She Society, "I had a bowel resection and illiostomy bag for three months while I healed from surgery. Fortunately the cancer hadn't spread to my lymph nodes, so I required no further treatment however facing such serious surgeries and my own mortality was an enormous challenge with a newborn."