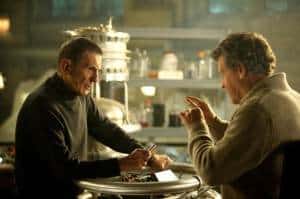 At a recent press roundtable on location in Vancouver, we were treated to a few minutes with Leonard Nimoy. In town to film his his scenes in the season two finale of Fringe, we listened to the living legend discuss William Bell's relationship with Walter Bishop, the alternate universe and what to expect in this finale.
According to Nimoy, 'there will be a major confrontation'between Bell and Bishop in the finale. 'We will see them spend some time together in a dramatic setting, in a dramatic situation. We will get some more information about their relationship; the past, how they felt about each other then, what they were doing, what they were trying to do, how it has affected both universes and particularly their feelings about each other now.'
Nimoy does not actually see much of himself in his character. 'William Bell is what we refer to in our culture as a master of the universe, a guy who has accomplished extraordinary things, a scientific genius as well as an extraordinarily successful businessman; a rare combination. I don't fit that mold. I don't relate to him but when I read the dialogue I understand where he's coming from.'
In the finale, with regard to the alternate universe, Nimoy revealed that "we will get some information about the younger William on this side.'He adds that 'these scripts give us a couple of twists and turns where we wonder if we haven't been had by William Bell.'
When asked about the season one finale with the Twin Towers, Nimoy found it to be "very interesting and daring contemporary television, to pull in that story…to pull in that event to this TV show. I thought it was really innovative and daring."
Although Nimoy does not know whether or not William Bell will return in season three, 'I answer the phone, particularly when J.J. Abrams calls me.'
'Over There, Part 1' airs tonight at 9PM ET on FOX.