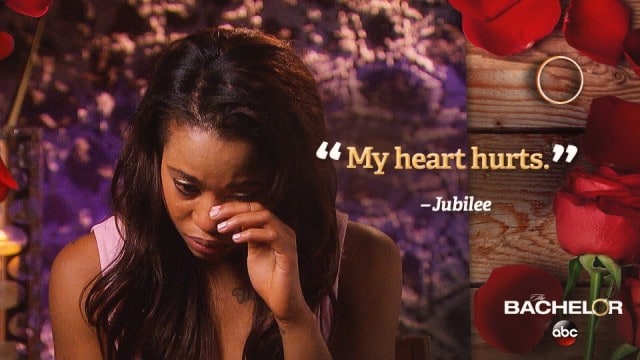 Ben just got rid of Jubilee on The Bachelor. When Jubilee asked him if the two could have a future together Ben had to be honest and admitted that given the progression of the other relationships he said, "I do not." At least Ben was a gentleman and walked her to the door before sending her packing.
Before that moment things seemed kind of light on the show. All the ladies were having fun doing the Spanish lessons and all the cooking. And the show seemed to be going in the direction of Olivia being hated by all the girls. We all held out hope for the newly divorced Amanda.
But the bomb that truly dropped was Jubilee getting her heart broken after finding out that Ben just didn't feel "that way" about her.
Here's the moment in its entirety
Hopefully Jubilee will be OK. She was actually one of the decent ones on the show. Jubilee is none too pleased
Jubilee doesn't want to hold Ben's hand
Jubilee is feeling overshadowed by the other girls
Ben calls out Jubilee for not making their time together count
Now let's get back to being annoyed at Olivia and being sappy about Amanda. Oh and who gets the rose?
But then the rest of the ladies dropped the hammer on Olivia, and now we're waiting until next week to see if she's going to lose her rose!